In Ukraine, the orange and black St. George's ribbon, a patriotic symbol associated with World War II in the former Soviet Union, has been adopted by pro-Russian separatist groups and their supporters.
The ribbon is particularly popular in Russia around May 9, when the country celebrates victory in WWII. On social media and Russian-language internet forums, people are tagging photos "separatyaka" or "little separatist."
"My separatist kitty."
To complete the look, some cats have added Soviet military garb.
This cat has been turned into a live St. George's ribbon.
Not to be outdone, dogs are also supporting the separatist cause.
"Separatist."
Some have copied the pro-Russian militants' masked look.
"Separatist dog. Cutie. :)"
"Separatist bunny." The flag bears the colors of the self-proclaimed Donetsk People's Republic.
"Separatist goose. Normal owners have normal pets."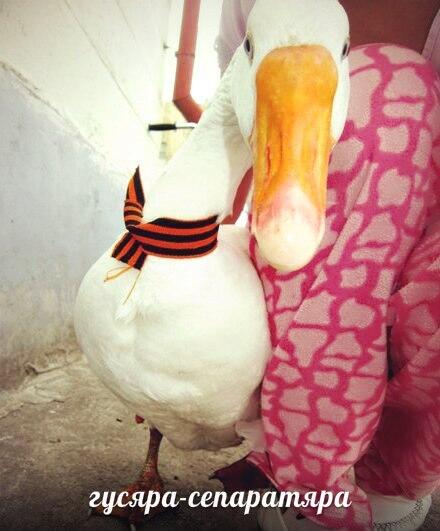 Pro-Russian forces have apparently welcomed the support.