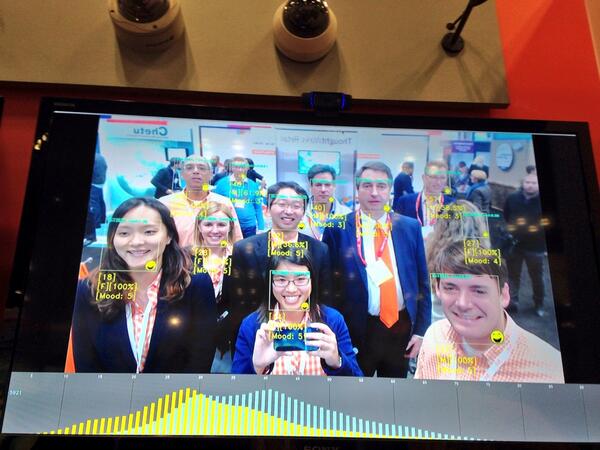 As retailers battle to make their brick-and-mortar stores more productive in the age of e-commerce, 3VR is among companies looking to help them through what's been dubbed "big data video-mining."
3VR, at this week's National Retail Federation expo in Manhattan, showed off video cameras that can, with great accuracy, peg the age, gender, and mood of passersby in real-time, displayed in labels underneath one's image. (My mood was deemed a 3 out of 10 while I stared at the camera in surprise but it recalculated to a 10 when I smiled.) A retailer using 3VR in its stores would presumably be able to see those pieces of information at any given moment using a "Storeview" feature in the startup's business intelligence dashboard, or just get it in aggregate later through a report analyzing demographics for the week. (For example, what days and times do 26-year-old women tend to come in? When are they happiest? How long do they stay and in front of what displays?)
While retailers have long paid for people-counting services like ShopperTrak to manage staffing and analyze foot traffic, new advances in technology have made it possible to get a heck of a lot more detail on the crowds, and faster.
With the real-time assessments, 3VR says retailers can adjust digital signage based on the age and gender of viewers and provide alerts for employees to work the register when lines get too long. 3VR, Cognimatics' TrueView People Counter and Lighthaus Logic are just some of the many startups harnessing video to analyze customer behavior, while companies like Nomi use Wi-Fi signals from smartphones for customer data.
Some see such data collection as an invasion of privacy, but the companies doing the tracking point out they're just putting brick-and-mortar retailers on equal footing with the internet, which collects similar information on users.
3VR's video surveillance technology, bolstered by its facial recognition aspect, actually started as a security tool for customers including banks, police departments and chains like T-Mobile. In 2010, Hilton tapped 3VR to improve customer service, by using facial recognition to identify repeat customers and to flag Gold Card members. It also monitored garage traffic to schedule valets appropriately.
It's unclear how 3VR can answer for retailers, "How many times does your customer visit your store over a period of time?" as included in its marketing materials, without storing individual-specific information, perhaps using that same facial recognition technology.
While security remains its core business, 3VR has been trying to ink more deals with retailers since then, traveling for a second year to the annual NRF expo this week. Chico's FAS, the owner of namesake stores, White House Black Market, and Soma Intimates, said Jan. 13 that it added 3VR's in-store video analytics.
Jeff Karnes, head of marketing for 3VR, said it's "in a number of pilots with big retailers" though it declined to reveal who. The San Francisco-based startup's investors include Kleiner Perkins Caulfield & Byers, Menlo Ventures, DAG Ventures, In-Q-Tel, Vantage Point Venture, and Focus.
So, be sure to smile next time you're in stores — somebody might be checking.
Sapna Maheshwari is a business reporter for BuzzFeed News and is based in New York. Maheshwari reports on retail and e-commerce.
Contact Sapna Maheshwari at sapna.maheshwari@buzzfeed.com.
Got a confidential tip? Submit it here.