Abercrombie, reporting its fifth straight quarter of sales decline Thursday, started its earnings call by focusing on a rare bright spot: China.
Chief Executive Officer Mike Jeffries, after acknowledging the "difficult teen retail environment" at home, was quick to jump to the brand's new flagship store in Shanghai, which he said opened in April to "huge crowds and strong sales" above forecasts, generating "500 million social media impressions" and more than 30,000 new Weibo followers. The retailer, which is also seeing positive comps out of Hollister in China, plans to open four more stores in the country this year, and has said it envisions more than 100 for both brands there in the long-term.
Abercrombie's dreams for China contrast with its far more dismal performance in the U.S., where the company has closed 220 stores since 2010 and plans to shutter another 60 to 70 this year. Executives said in February that Abercrombie stores in China posted a tremendous 35% increase in comparable sales last year. Meanwhile, they tumbled by 11% in both the U.S. and in the overall international division, which is mostly comprised of European stores.
"In fast-growth markets like Asia, the opportunity is huge," David Leino, Abercrombie's senior vice president of global real estate, said at a meeting with analysts in November. "We believe Asia could be our next $1 billion business, and a highly profitable one at that," he said, citing China's income growth and the size of Japan's apparel market.
Abercrombie, which owns Hollister and a namesake kids chain, ended the quarter with 842 U.S. stores, 18 in Canada, 117 in Europe and 22 in Asia, Australia and the United Arab Emirates. Specifically, there are 9 Hollisters in China and 2 Abercrombies.
The brand was among the hottest and priciest of American teen brands at the start of the decade, but has lost its luster domestically in recent years, plagued by a variety of issues: stale marketing, a trend away from logos, the rise of fast-fashion and a somewhat scandalous CEO. It's been working hard to regain its appeal, altering Hollister storefronts so customers can actually see inside, chasing fashion trends more aggressively, and even planning to list its goods on Asos later this year.
But the competition is steep, especially as teens have less to spend. Abercrombie's comparable sales have also been declining significantly in Europe, where teen unemployment is even higher than in the U.S., but executives blame those numbers on the economy and the brands' "rage" level of popularity when the stores first opened.
Abercrombie is hoping its version of how young Americans dress and live will catch on in China, even as it struggles to sell that image to actual Americans. Here's how the brand describes itself on its website: "Steeped in Northeast traditions, Abercrombie & Fitch is an iconic collegiate staple, outfitting college students around the world in cool, casual men's and women's clothing." Hollister, meanwhile, calls itself "the fantasy of Southern California by Abercrombie & Fitch. It's all about hot lifeguards, beautiful beaches, and awesome new styles for guys and girls. Hollister's laidback lifestyle, cool clothing, and All-American image is timeless and effortlessly cool."
The retailer hopes these ideas of American teenagers and 20-somethings find a more captive audience in China, where it's also beefing up a fast-growing online business with local fulfillment and a local website. Abercrombie, and analysts who are bullish on the company, anticipate its European business will improve once the region's economy heals.
As far as its plans for the U.S., Abercrombie said it could "potentially" close more than 60 to 70 stores this year. The retailer is mulling the "optimal size of our U.S. bricks and mortar footprint" given that about 500 of its 850 U.S. leases are up for renewal between now and the end of 2016, Chief Financial Officer Jonathan Ramsden said on today's call.
"The closures this year, all bar one, are in the U.S," he said.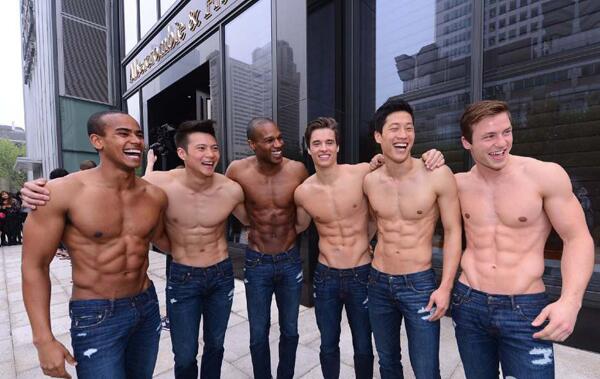 Sapna Maheshwari is a business reporter for BuzzFeed News and is based in New York. Maheshwari reports on retail and e-commerce.
Contact Sapna Maheshwari at sapna.maheshwari@buzzfeed.com.
Got a confidential tip? Submit it here.