Wednesday morning, a massive sinkhole opened up inside of the National Corvette Museum in Bowling Green, Ky.
When the sinkhole started opening around 5:30 a.m., it triggered an alarm that called the local fire department.
The sinkhole is reportedly 40 feet wide and at least 20 feet deep.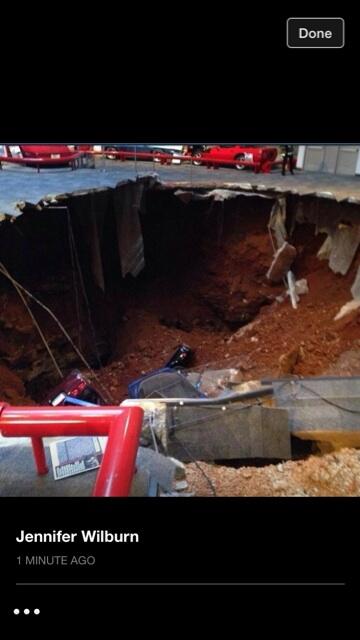 According to WKYU-FM, eight cars were swallowed up by the sinkhole. Two of them were on loan from General Motors, and the others were owned by the museum.
The cars on loan from GM:
• 1993 ZR-1 Spyder on loan from General Motors
• 2009 ZR1 "Blue Devil" on loan from General Motors
The other six vehicles owned by the museum are:
• 1962 Black Corvette
• 1984 PPG Pace Car
• 1992 White 1 Millionth Corvette
• 1993 Ruby Red 40th Anniversary Corvette
• 2001 Mallett Hammer Z06 Corvette
• 2009 White 1.5 Millionth Corvette
The museum is currently closed as its engineers assess the damage.
Also, the Vice President's office gave their condolences, as well.
Ryan Broderick is a reporter for BuzzFeed News and is based in London.
Contact Ryan Broderick at ryan@buzzfeed.com.
Got a confidential tip? Submit it here.