UKIP leader Nigel Farage has been criticised for saying migrants who have tested positive for HIV should not be allowed to enter Britain.
In an interview with Newsweek Europe, Farage was pushed on who should be allowed to enter Britain.
In response, he declared: "People who do not have HIV, to be frank. That's a good start."
The interview was published as the polls closed for the Clacton by-election, won for UKIP by Douglas Carswell following his recent defection from the Conservative party.
The Terrence Higgins Trust was quick to condemn Farage's remarks. Chief executive Dr Rosemary Gillespie said in a statement:
"It is to the UK's credit that for more than three decades successive governments, no matter their political stamp, have refused to put in place border controls against people living with HIV.

"Major international organisations, including the United Nations, agree that such draconian measures would have no impact on the epidemic. In bracketing those living with the condition with murderers, and suggesting there is no place for them in his vision of Britain, Mr Farage has stooped to a new level of ignorance."
A number of politicians attacked Farage on Thursday evening.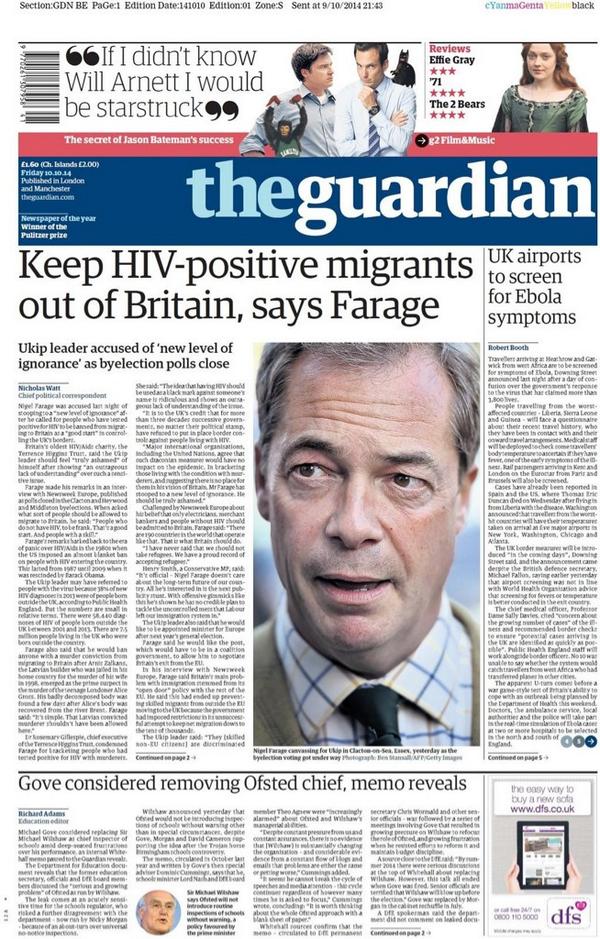 And on Friday morning a woman with HIV challenged Farage over his remarks during a live phone-in on the LBC radio station.
Listen to the exchange here:
An earlier version of this story incorrectly attributed a Newsweek Europe quote to Farage that was actually made by the interviewer. The quote has now been deleted.