A roller coaster derailed at a Southern California amusement park Monday, injuring at least four riders and trapping dozens of others, the Los Angeles County Fire Department said.
Dozens of passengers were seen dangling about 40 feet in the air on the Ninja roller coaster at Six Flags Magic Mountain after the ride apparently struck a tree branch and came to a halt.
The 25 people stranded on the ride were "all alert and corresponding with park personnel during the evacuation process," Sue Carpenter, a spokeswoman for the park, said in a statement.
All injuries appeared to be minor and two people were later "transported to a local hospital for precautionary measures," Carpenter said.
Firefighters were called to the Valencia, Calif., amusement park just before 6 p.m. Monday, KNBC reported, and crews were seen attempting to rescue the stranded riders in an area where the ride's track passes under several trees.
According to the park's website, the suspended swinging roller coaster is one of only four of its kind in the U.S. and "pivots with precision as you narrowly miss tagging land and water, whipping around at 55 miles per hour."
More than two and a half hours after the accident, all passengers were successfully rescued from the ride.
"As a precaution, the ride will remain closed until a thorough inspection of the area is complete," park officials said in a statement.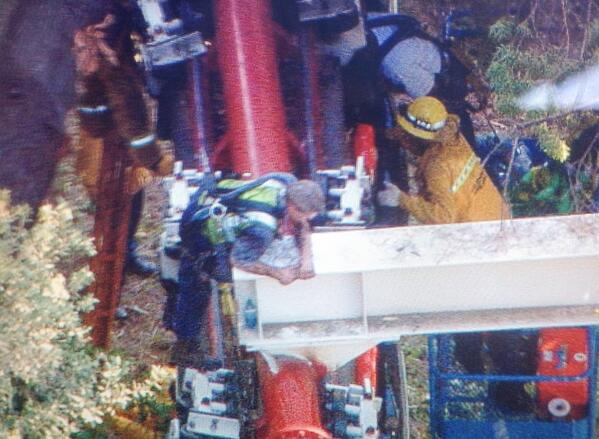 A photo purportedly taken by a passenger stuck on the roller coaster and posted to Reddit showed the mangled ride after it derailed.