Swiss voters narrowly approved contentious immigration quotas on Sunday, Feb. 9 — sparking this viral meme from a Swiss newspaper mocking what the Swiss national soccer team would look like without players of immigrant backgrounds.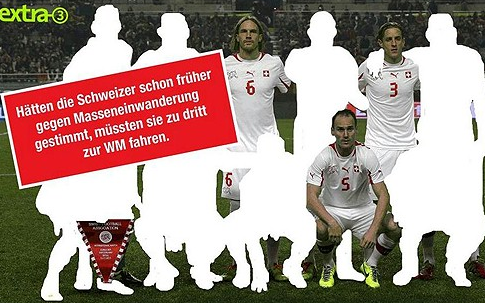 The Swiss soccer team, which has qualified for the 2014 World Cup, is made up of talented players from immigrant backgrounds, including Turkey and Albania. The amendments to the country's immigration law approved on Sunday mandate new annual quotas on the number of immigrants allowed to work in Switzerland, including sector-specific limits. The law also requires that Swiss nationals receive preference for open positions. The proposals passed in a referendum by a slim 50.3%. (Fifty six percent of eligible voters casted their ballot.)
Immigration is an increasingly polarizing issue in Switzerland, where immigrants make up about 27% of the country's population of eight million. The far-right Swiss People's Party introduced the proposals for the referendum, which the Swiss government and business and banking sectors actively rallied against.
Switzerland has enacted controversial xenophobic legislation in the past, such as a 2009 ban on building minarets, the prayer towers on Mosques. (The country had only four minarets as of 2009.) This recent vote reflects deepening tensions across Europe, where countries, still reeling from the economic crisis, are struggling with increasingly cash-strapped welfare programs amid rising rates of African and Eastern European immigrants seeking better economic and political opportunities.
The referendum's passage is also seen as a rebuke of Swiss cooperation with the European Union. Switzerland is not a EU member, but has signed trade and labor agreements with Brussels providing for easier passage of immigrants across shared borders.