Taglit-Birthright, the group that organizes free 10-day trips to Israel for young Jewish adults, is continuing to send tours to Israel, despite the barrage of rockets flying between Israel and Gaza that caused several airlines to cancel flights to Israel on Tuesday.
"We are not canceling any trips at this point," Noa Bauer, Birthright's international vice president for communication and marketing, told BuzzFeed in an email. "We will find alternative flights if needed."
Birthright's free trips to Israel have become a popular rite of passage for many American Jews seeking to explore their Jewish identity and connection to Israel — or just to take a free trip. Critics fault the free program for presenting a one-sided view that ignores the politics and historical narratives of Israel's Palestinian neighbors.
The tours continue despite the violence that has hit the region this month. Israel launched a military campaign in Gaza on July 8 that has killed more than 600 Palestinians and displaced more than 110,000 people. During the same period, Hamas militants have launched more than a thousand rockets into Gaza, which have sent Israelis scrambling to bomb shelters, but have been largely diffused by Israel's costly Iron Dome, a system that intercepts rockets. Twenty-five Israeli soldiers and two civilians have died.
On Tuesday, several U.S. and European airlines suspended flights to Israel after Hamas militants in Gaza fired a rocket close to Israel's main airport, Ben Gurion, outside of Tel Aviv. Birthright said it would find alternative flights for those canceled.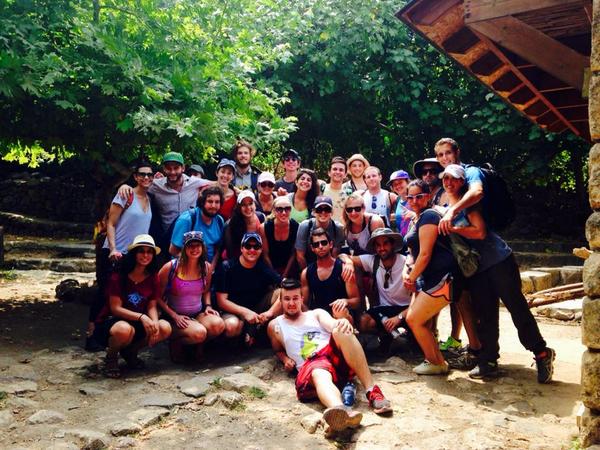 Despite Birthright's persistence, its numbers are still down. Between 30 to 40% of participants who signed up for a Birthright trip in July have canceled in the past 16 days, said Gail Hyman, Birthright's vice president for communication and marketing. Birthright currently has 2,689 participants in Israel, with 224 cancellations, according to Bauer, the vice president of international marketing. Many of the trips planned for July and August also currently have openings. Birthright is still accepting applicants to fill these immediate openings.
Hyman told BuzzFeed that Birthright has a "sophisticated state-of-the-art security system," including GPS trackers on each tour bus, and is in close coordination with Israeli security. She declined to elaborate further on the program's security protocols.
"Historically we've never canceled a trip," Hyman said, noting a similar decline in participation during previous periods of conflict, like the 2008 Israel–Gaza War.
Since 1999, Israel has taken more than 340,000 young adults ages 18–26 from more than 60 countries on a free trip to Israel. Birthright spends $3,000 on each participant, according to Hyman. The organization is funded by a group off philanthropic funds, Jewish communal groups, and the Israeli government, the latter of which provides $40 million a year to the Birthright program, according to Haaretz. Conservative casino mogul Sheldon Adelson, 80, has been a major Birthright funder; he's contributed $180 million since 2007, according to the New York Times. He also notoriously told a Birthright group in 2011 that the Palestinians were an "invented people."
This year Birthright urged participants to post photos and updates on Twitter and Facebook using hashtags like #YoloIsrael.
Two days before Dina Ioffe, 26, was set to travel to Israel with Birthright she decided not to go. She was worried about reports of rockets being fired from Gaza into Israel's south, an area she was due to visit on her trip. Then Ioffe spoke with her Birthright coordinator, who explained that every day their trips are approved by Israeli security. She changed her mind and decided to go.
Since flying to Israel on July 13, Ioffe said she has not heard a single air raid siren or had to run to a bomb shelter. Her group has visited mainstays like the Holocaust Museum, but canceled a trip to Tel Aviv because of security concerns. Everywhere the group has gone they've discussed where the bomb shelters are and what to do if the air raid sirens go off, she said. On a trip to the Dead Sea, which lies between Jordan and the West Bank, she watched fighter jets fly over on their way to Gaza. One of the Israeli soldiers killed in Gaza last week was best friends with an Israeli on her trip, she said. Another of the soldiers killed that day, Max Steinberg, was a Birthright alumnus.
Israeli and U.S. politicians have described Israel as "under siege" in recent weeks. Ioffe said she agreed with that characterization but did not feel in direct danger herself during her recent trip.
"We feel really safe; it's almost as if we're in this bubble," Ioffe said.
Stefani Greenspan, 26, on the same trip, agreed.
"I wasn't worried," Greenspan said in an email. "This is what Israelis have to deal with every day. If it doesn't stop them from living their lives it shouldn't stop me from coming. I knew that I was with a tour that wouldn't put me in danger."
Each morning Ioffe's group leaders give a security and news update. They were told when an Israeli soldier died and eagerly followed reports last week that a cease-fire had been signed. She did not know how many Palestinians had been killed during the same period; it was not part of the update.
Tuesday night, Ioffe's United Airlines flight back to the U.S. was canceled. Birthright told her they'd find her another way out.