Butterfly, a rare goat-sheep hybrid, was born at My Petting Zoo in North Scottsdale, Ariz., on Sunday.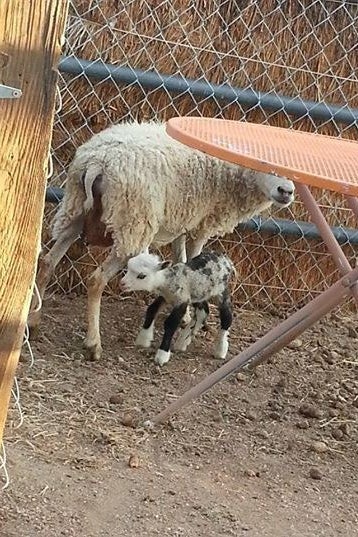 Priscilla Motola, the owner of My Petting Zoo, said she was surprised when Butterfly was born because she didn't even know the mother sheep was pregnant.
The male goat and female sheep created Butterfly, who has a goat face and feet, but is covered in wool.
Motola said her three sons discovered the geep on Sunday. Her youngest son said "she looks like a butterfly," because of all the different colors on his coat.
While sheep and goats may look similar, they're from different genus and have different amounts of chromosomes, and usually their children are stillborn.
In April, the only goat-sheep hybrid in Northern Ireland was born on a farm that had been raising ewes for generations, but had never reported a geep before.
Here Butterfly follows her mom around the petting zoo while making some adorable noises:
Butterfly getting her second interview with Mia Garcia from Fox 10 News, while her mama wonders what all the fuss is about.
Butterfly hanging out with all her new friends:
And here's the baby geep cuddling with her three favorite guys:
Michelle Broder Van Dyke is a reporter and night editor for BuzzFeed News and is based in Hawaii.
Contact Michelle Broder Van Dyke at michelle@buzzfeed.com.
Got a confidential tip? Submit it here.