There are currently 23 female CEOs running Fortune 500 companies.
General Motors recently tapped Mary Barra (far left) to helm one of the Big Three automakers. She joins the ranks of PepsiCo's Indra Nooyi, Yahoo's Marissa Mayer, and 20 other Fortune 500 female CEOs.
These 23 companies had revenues of $818 billion in their last fiscal year.
The highest was GM, which will be helmed by Mary Barra starting early next year, with $152 billion in revenue. Meg Whitman's HP had revenues of $112 billion.
Female-led Fortune 500 companies had profits of $51.3 billion.
The most profitable was Virginia Rometty's IBM, which earned $16.6 billion.
The 23 companies have a combined workforce of 2.4 million employees. IBM has the most employees of them with 430,000.
Maggie Wilderotter at the phone and internet company Frontier Communications is the longest tenured Fortune 500 female CEO — she's been on the job since 2004 — while Barra won't take the helm at GM until January.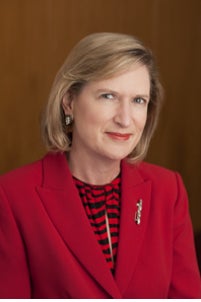 Four iconic tech companies — Yahoo, IBM, HP, and Xerox — have female leaders. But Barra is the first female CEO of a global automaker ever and no big bank has ever been led by a woman.
One of these three isn't like the other two.
The female CEO to see the biggest jump in her company's stock is Carol Meyrowitz of the discount retail conglomerate TJX; the biggest fall has been Frontier under Wilderotter.
TJX is up over 300% since Meyrowitz took over in January 2007, while Wilderotter's Frontier is down 65% since November 2004 when she joined the company.
For the 20 public companies that have to disclose their executives' compensation, the woman who got the highest annual compensation was Yahoo's Marissa Mayer, with $36.6 million. All together they took home $261 million.
Mariah Summers is a business reporter for BuzzFeed News and is based in New York. Summers reports on hospitality, travel and real estate.
Contact Mariah Summers at mariah.summers@buzzfeed.com.
Matthew Zeitlin is a business reporter for BuzzFeed News and is based in New York. Zeitlin reports on Wall Street and big banks.
Contact Matthew Zeitlin at matt.zeitlin@buzzfeed.com.
Got a confidential tip? Submit it here.