Fire authorities issued evacuation orders to about 5,000 homes Tuesday as a wildfire burned through parched brush in northern San Diego County, Calif. But at least some of those orders warned of a "fire in your pants."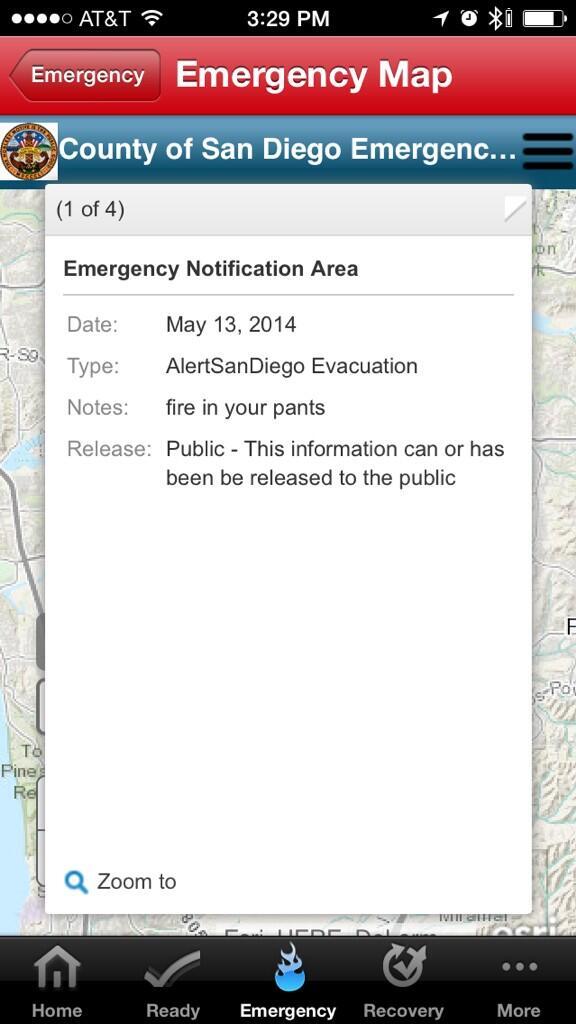 A county official told U-T San Diego that the origin of the strange alert was unknown, though it could have been a student or contractor with access to the app.
Authorities were investigating the odd warning Tuesday.
They were also fighting the blaze — dubbed the "Bernardo Fire" because it burned near Rancho Bernardo — which had grown to about 800 acres after starting at 10:45 a.m. The fire did not cause any serious injuries or property damage.
The fire was only 5 percent contained Tuesday evening, though its spread had been limited.
The cause of the fire was unknown. San Diego Mayor Kevin Faulconer said in a news conference he declared a local state of emergency in order to get federal reimbursement for the cost of fighting the blaze.
High temperatures and dry winds fueled the blaze, San Diego Fire Chief Javier Mainer said during a news conference.
Pictures tweeted from the scene of the blaze showed flames getting close to homes. According to Mainer, past fires helped crews know how to save buildings.