More than two dozen inmates in central Brazil escaped through the front doors of their jail Thursday after two women in "sexy" police uniforms seduced and drugged the guards.
The escape involved either either 27 or 28 inmates. It happened at the Cadeia Pública de Nova Mutum, a jail about 166 miles from the city of Cuiabá in the state of Mato Grosso, O Globo reported.
The two women reportedly arrived at the prison late Wednesday night or early Thursday morning and convinced the on-duty guards to leave their posts. They then gave the guards spiked whiskey, according to Reporter MT.
Investigators said the women's "plan was to seduce" the guards, after which they unlocked the prison and the inmates walked out the front doors.
Investigators later found police-theme lingerie at the prison that they believe the women used. The guards were discovered sleeping and handcuffed in various states of undress.
The inmates escaped with several guns and ammunition from the prison, O Globo reported.
Police say Bruno Amorim, 18, planned the escape, and that one of the women is his girlfriend. Amorim was serving time for attempted murder.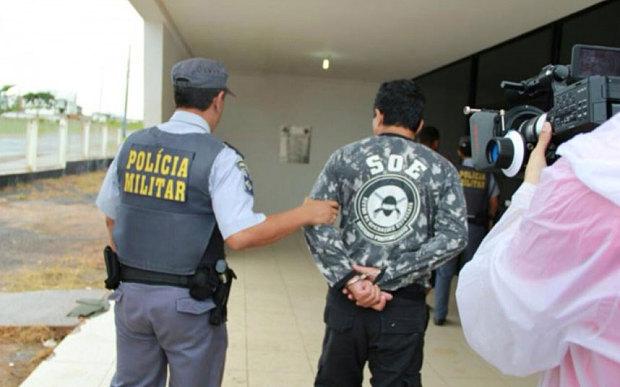 By Saturday, police had recaptured 11 of the escaped inmates, one of whom was hiding at a nearby university.
The prison director, as well as the guards, were arrested Thursday. They are being accused of negligence, according to Reporter MT.