Though you wouldn't guess it from this picture at the announcement of his resignation on Monday, outgoing Secretary of Defense Chuck Hagel brought some much-needed pizzaz to the navy and taupe world of the Pentagon during his nearly two years in office.
Most Americans first became aware of Hagel's outside-the-box fashion sense when the White House released this picture of a meeting on Syria inside the Situation Room. It's impossible for the eye to not be drawn to the shirt Hagel is wearing.
Just gaze in awe at the splendor. The majesty. The inability to be ashamed of wearing a hot pink polo and tan blazer in the White House Situation Room.
Erin Kirk-Cuomo spent years as a Pentagon photographer, covering Leon Panetta and Hagel until this summer. "I think it was pretty apparent from the beginning that Hagel had his own sense of style," she told BuzzFeed News in a phone interview.
"His ties were always a little on the fashion-forward side," Kirk-Cuomo said. "He was never boring in his choices. I think he takes a lot of pride in making some fashion-forward decisions."
Kirk-Cuomo spotted early that even with his tamer suits, Hagel loved to throw a splash of color in via his socks. "I noticed underneath his desk, and it kind of became a joke in the press pool that Hagel was never afraid to wear some crazy socks."
"I can't remember what trip we were on, but I think they were green and had martini glasses on them, and I was like, That's it, we need to start a hashtag," she recalled. And thus #SecDefSocks was born.
The conceit took off with the Pentagon press corps, and Hagel was more than willing to show off his pride in the Navy — despite being an Army sergeant — via orthopedic couture.
The trend even caught on among the staffers who manned the Secretary's flgihts.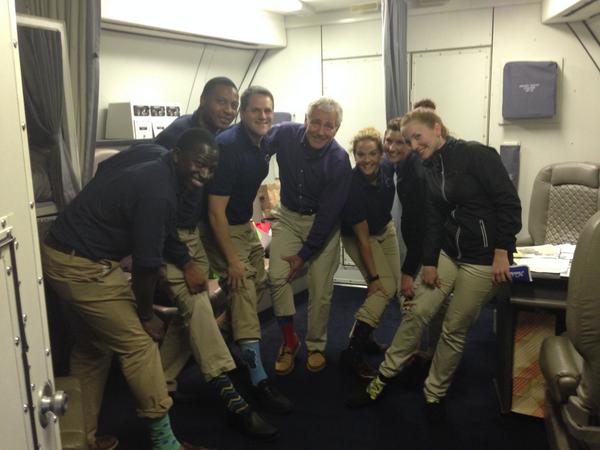 And so more and more photos like this one of a pair of lime-green socks began appearing on the Pentagon's Flickr account.
Kirk-Cuomo's favorite outfit of his: "He had these green corduroy pants that he likes to wear on more casual trips and always pairs it with a bright yellow sweater. It always meant that he was going to have some kind of crazy socks on."
Not every sartorial choice of Hagel's landed equally. For example, this red-white-and-blue get-up that he wore to the Army-Navy football game last year:
But if this Steve Jobs-esque outfit is any indication, Hagel will do just fine transitioning back into the private sector once his successor is confirmed in the Senate.