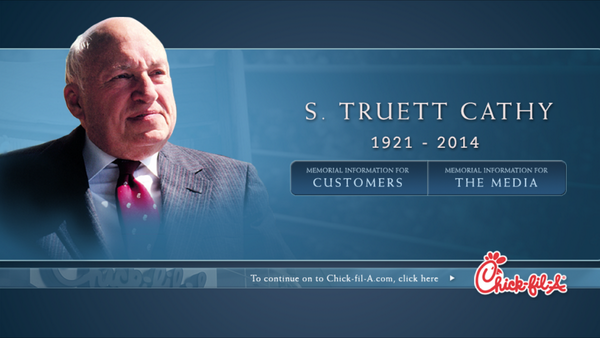 Chick-fil-A famously famously operates a policy where its restaurants remain closed on Sundays.
Cathy was a devout Southern Baptist who taught Sunday school classes for 50 years, and the "closed on Sunday" policy was an extension of his faith.
A statement from the company confirmed that their restaurants will continue the policy and will remain in private hands.
Cathy was replaced as Chick-fil-A president by his oldest son Dan in 2001, but remained chairman emeritus until his death.
I'd like to be remembered as one who kept my priorities in the right order. We live in a changing world, but we need to be reminded that the important things have not changed. I have always encouraged my restaurant operators and team members to give back to the local community. We should be about more than just selling chicken, we should be a part of our customers' lives and the communities in which we serve.
In 2012, Chick-fil-A and the Cathy family courted controversy with their vocal opposition to gay marriage.