Drug company officials were arrested Friday in the deaths:
The director of a drug manufacturing company that allegedly provided medication to the Indian doctor who performed sterilization procedures on dozens of women in India, killing at least 13, was arrested Friday.
Press Trust of India and the Associated Press reported that Ramesh Mahawar, who worked at Mahawar Pharma Pvt and his son were arrested. They were charged with fraud.
Around 28,000 tablets of Ciprocin, a drug manufactured by Mahawar, were confiscated Friday, district officials told Reuters.
According to a high-ranking official, the antibiotic pills given to the victims at the sterilization camp contained zinc phosphide — a chemical that is used in rat poison — The New York Times reported.
A stock of the toxic chemical was found on Mahawar's premises. The owners reportedly set fire to medicine packets behind their factory, according to a Reuters reporter at the scene.
More possible victims, who did not undergo sterilization but took the same pills as the victims, were admitted to hospitals complaining of vomiting, dizziness and swelling.
The state government has banned the sale and distribution of all medicines from Mahawar, Reuters reported.
On Wednesday, the doctor who performed 83 tubal ligations was arrested and charged with culpable homicide in the deaths of at least a dozen women who have tied since the procedure.
Dr. R. K. Gupta said he performed the sterilizations at a mobile clinic in Chhattisgarh state over six hours. Gupta told The New York Times prior to his arrest that he has done as many as 300 procedures in one day.
Preliminary tests suggest that the women died of toxic shock, which may have been caused by contaminated surgical equipment, Bilaspur's Joint Director of Health Amar Singh Thakur said.
It has also emerged the Nemi Chand Jain hospital in Pendari, Bilaspur — where the operations were carried out — had not been operational since April, and lacked basic infrastructure such as beds, stretchers and surgical equipment.
A guard at the hospital told NDTV said the "health camp", which the operations were a part of, was the first time the hospital had been used in six months.
People in the village have alleged the operations were carried out hurriedly. Officials have denied any negligence in the procedures.
Three other doctors have been suspended, and police filed a criminal complaint. The chief minister of the state — one of India's poorest — ordered an investigation.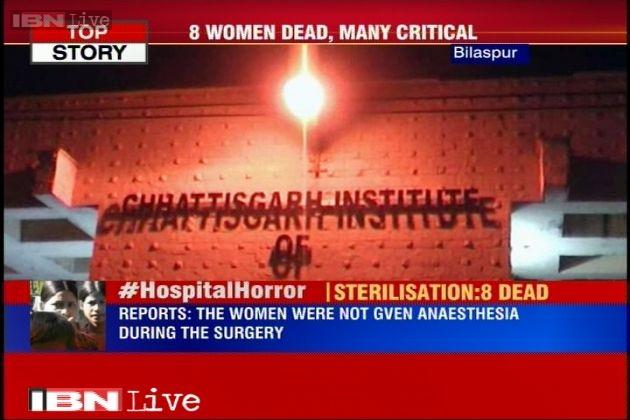 Such sterilization camps are not uncommon in India. More than 4 million such operations were performed from 2013 to 2014, according to the government. The camps form part of a long-running effort to control India's booming population.
The camps are held in Chahattisgarh between the months of October and February. Women who undergo the surgery are given 1,400 rupees ($23) by the government, The Guardian reported.