Cremige One-Pot Garnelen-Spinat-Pasta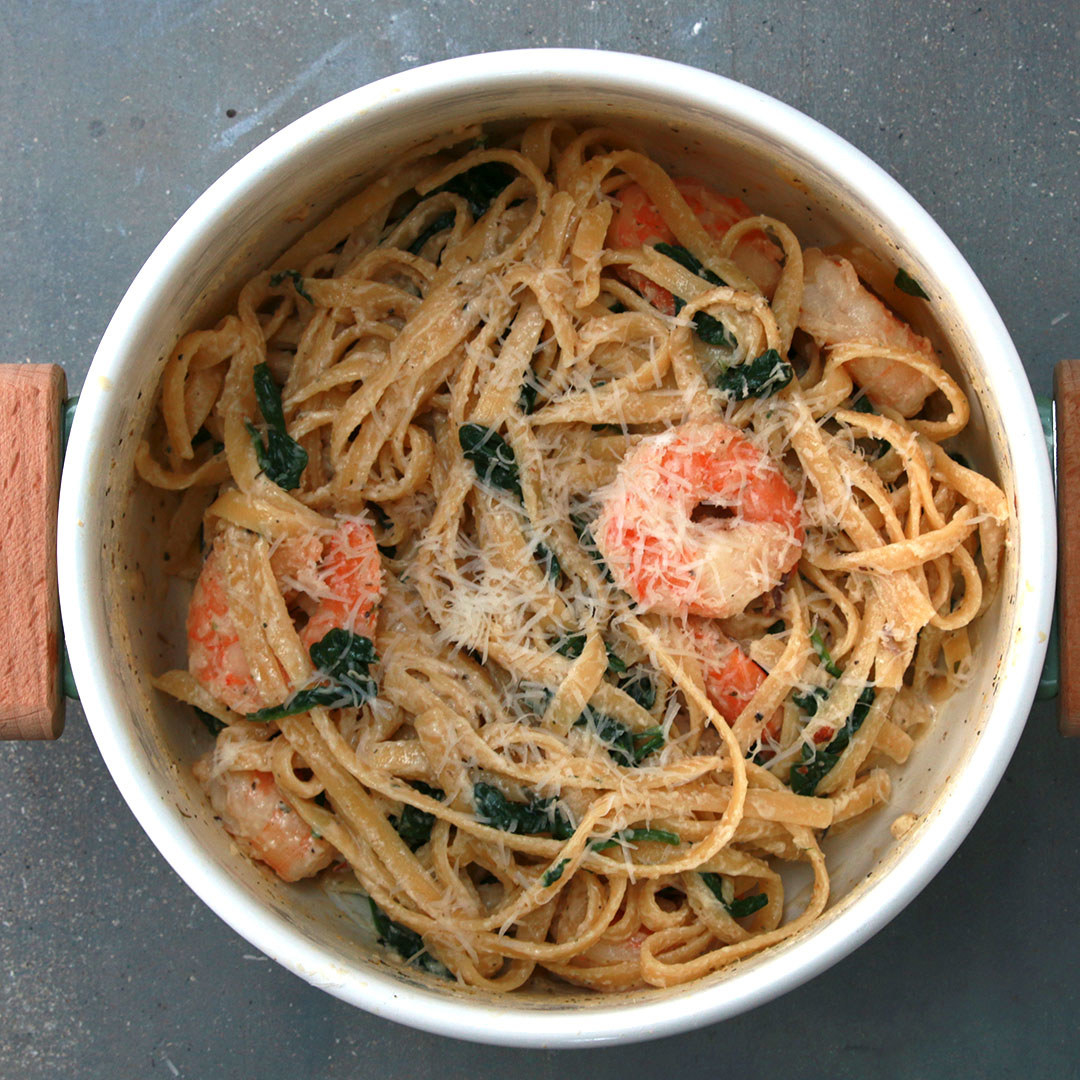 ZUTATEN
Portionen: 4
450g Garnelen
1 EL Olivenöl
1 EL Butter
2 Knoblauchzehe
1 TL Salz
1 TL Pfeffer
360ML Milch
360ML Hühnerbrühe
230G Fettuccine
900G Spinat
½ TL italienische Kräuter
25G Parmesan
ZUTATEN
1. Butter in einem heißen Topf zum Schmelzen bringen, Olivenöl dazugeben. Dann den Knoblauch und die Garnelen hinzugeben – mit Salz und Pfeffer abschmecken. Die Garnelen schön anbraten, bis sie sich rötlich verfärben. Dann die Garnelen aus dem Topf nehmen und in einer Extra Schale zur Seite stellen.
2. Jetzt die Milch, Hühnerbrühe in den gleichen Topf geben. Die Pasta dazugeben und für 10 Minuten kochen lassen. Ab und zu umrühren, damit die Pasta nicht aneinander klebt.
4. Wenn die Pasta al dente ist, den Spinat hinzugeben und alles mit Salz und Pfeffer abschmecken. Parmesan darüber streuen und so lange köcheln lassen, bis alles schön mit Sauce bedeckt ist.
5. Nun die Garnelen zurück in den Topf geben und etwas umrühren, so dass sich alles schön miteinander vermischt.
6. Alles auf einem Teller servieren, etwas Parmesan darüber.
7. Guten Appetit!
Dieser Artikel erschien zuerst auf Englisch.
Looks like there are no comments yet.
Be the first to comment!