Hackfleisch-Rigatoni-Auflauf zum Wideraufbacken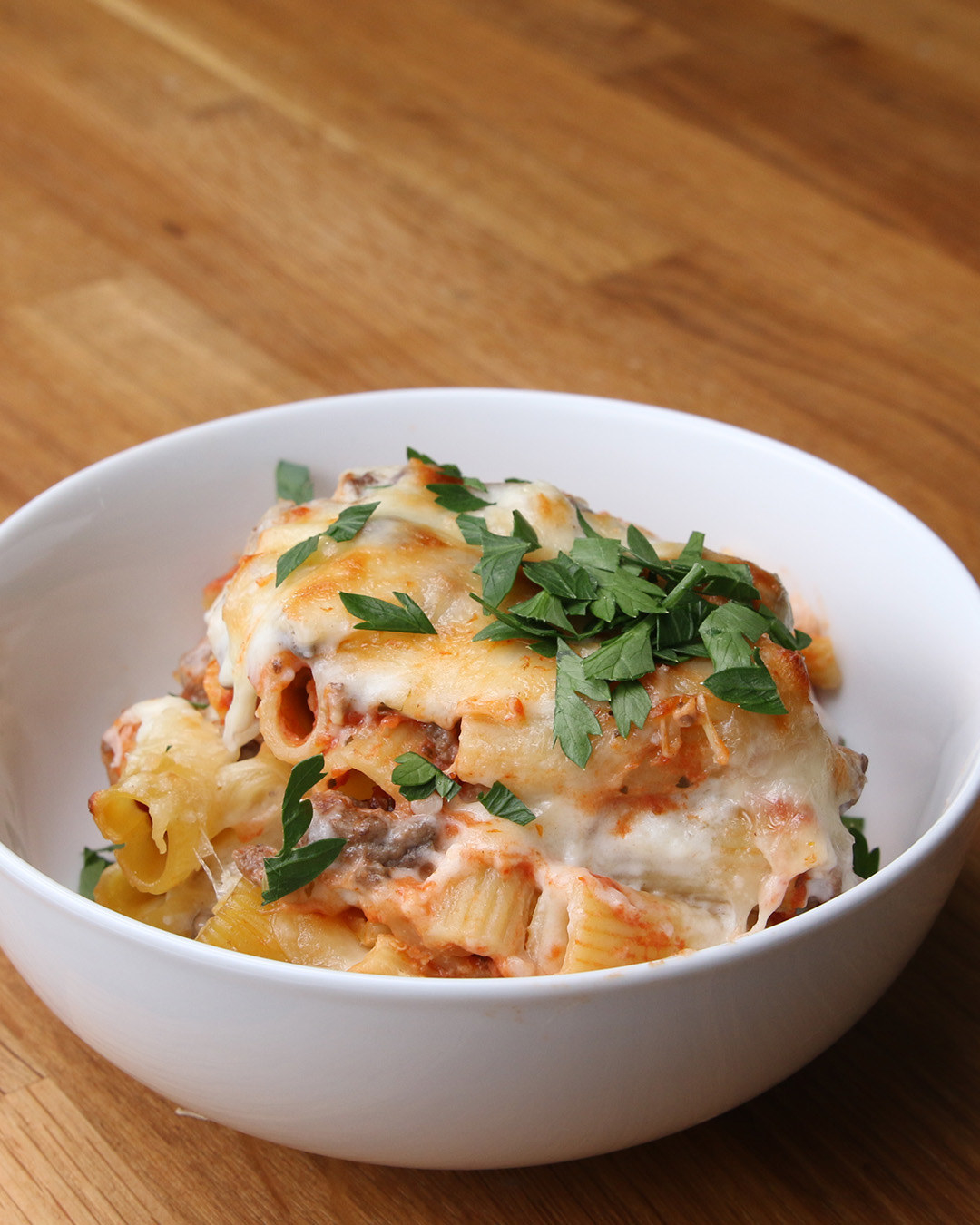 Zutaten
Reicht für 2 Auflaufformen (23x33 cm)
900g Hackfleisch
Salz und Pfeffer
3 EL gesalzene Butter
35g Mehl
720ml Milch
250g ungesalzene Butter, geschmolzen
900 Rigatoni, gekocht
4 Eier, aufgeschlagen
720ml Tomatensauce
300g geriebenen Mozzarella
50g geriebenen Parmesan
Zubereitung
1. Ofen auf 190˚C vorheizen.
2. In einer Pfannen das Hackfleisch mit Knoblauchpulver, Zwiebeln, Salz und Pfeffer anbraten. Aus der Pfanne nehmen und abgießen.
3. In der gleichen Pfanne die Butter schmelzen und mit dem Mehl vermischen, bis es eine Masse wird.
4. Nach und nach die Milch hinzugeben und zum Kochen bringen, bis es eine dickere Sauce wird. Danach zur Seite stellen.
5. Die Rigatoni in einer Schüssel mit den Eiern vermischen. Auf zwei Auflaufformen verteilen.
6. Danach die Tomatensauce, das Hackfleisch, Mozzarella, die weiße Sauce und Parmesan darauf verteilen.
7. Dann für 30-35 Minuten im Ofen backen, bis der Käse geschmolzen und goldig braun ist.
8. Die zweite Aufflaufform einfrieren. (der Auflauf ist 2 Monate gefroren haltbar. Zum Aufbacken, über Nacht in den Kühlschrank stellen und dann bei 190°C für 40 Minuten in den Ofen stellen. Dann die Abdeckung entfernen und noch einmal 10 Minuten backen.)
9. Guten Appetit!
Dieser Artikel erschien zuerst auf Englisch.
Looks like there are no comments yet.
Be the first to comment!