Käsekuchen mit Boden aus Bananenbrot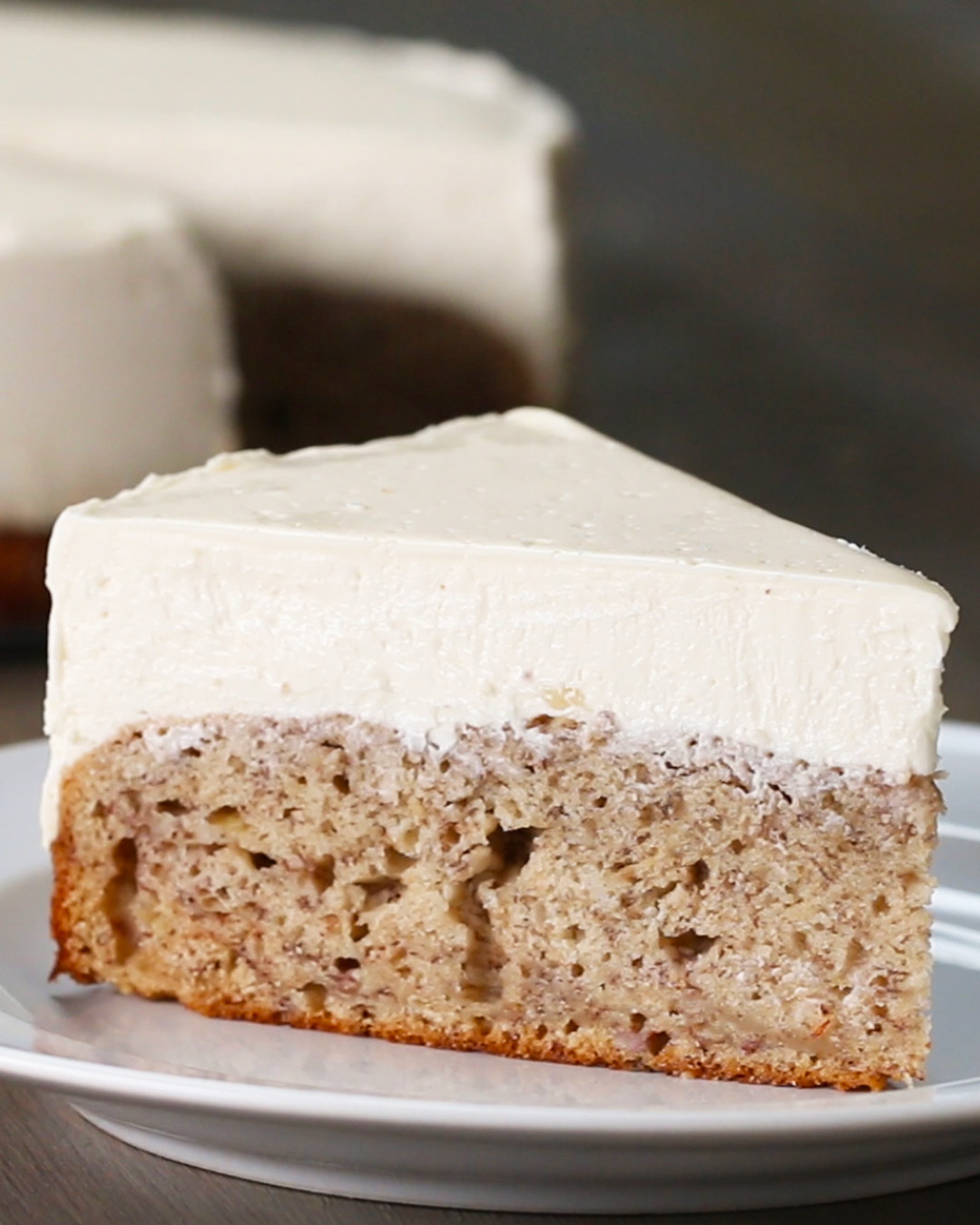 ZUTATEN:
Portionen: 10
Schicht Bananenbrot
4 Bananen (so reif wie möglich)

60ml Pflanzenöl

1 Ei

100g Zucker

1 Teelöffel Vanille-Extrakt

510g Mehl

1 Teelöffel Backpulver
1 Teelöffel Backnatron

¼ TL Salz

1 Teelöffel Zimt
Schicht Käsekuchen
910 g Frischkäse, leicht gewärmt
100g Zucker
1 Esslöffel Vanilleextrakt
250 ml Milch
1 Esslöffel Gelatinepulver
Karamell, zum Beträufeln
ZUBEREITUNG
# Backofen auf 180°C vorheizen.
# Die Bananen in einer großen Schüssel mit einer Gabel zerdrücken.
# Öl, Ei, Vanille und Zucker hinzugeben. Rühren bis alles vermengt ist.
# Mehl, Backpulver, Backnatron, Salz und Zimt hinzufügen. Rühren bis alles gut vermengt ist.
# Den Bananenbrotteig in eine gefettete Springform füllen und 30-40 Minuten backen, bis die Oberfläche stichfest ist.
# Den leicht erwärmten Frischkäse, Zucker und Vanille in eine große Schüssel geben. Verquirlen bis alles vermischt ist.
# Die Milch etwa 2 Minuten in der Mikrowelle erhitzen, bis sie heiß ist, und das Gelatinepulver hinzugeben.
# Schnell rühren, bis die Gelatine sich aufgelöst hat (etwa 5 Minuten).
# Die Gelatinemischung über den Frischkäse gießen und wieder verquirlen, bis alles sämig ist.
# Die Käsekuchenmischung auf das gebackene Bananenbrot gießen und 3 Stunden oder über Nacht abkühlen lassen.
# Mit Karamell beträufeln und genießen!
Dieser Artikel erschien zuerst auf Englisch.
Looks like there are no comments yet.
Be the first to comment!