Behold, a palace for cats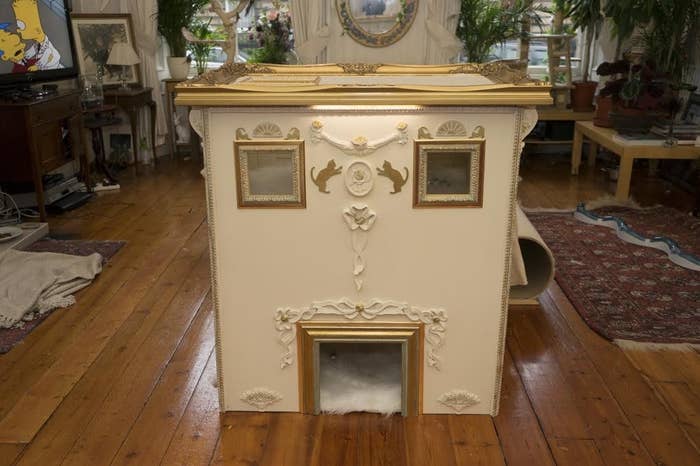 Picture framer Toby Malcolm decided to build his five cats Gunther, Heidi, Ivanka, Wolfgang and Anouska a place to sleep, rest and play. But not any old cat house: a CAT PALACE. It's a three-storey structure with wall-to-wall bedding on the first two floors, an art gallery, a plush roof terrace, remote control atmospheric lighting inside and out, and two royal doorways framed in gold. It took him five months to build and deck out and now it's finally completed.
These monarchs are worth a royal welcome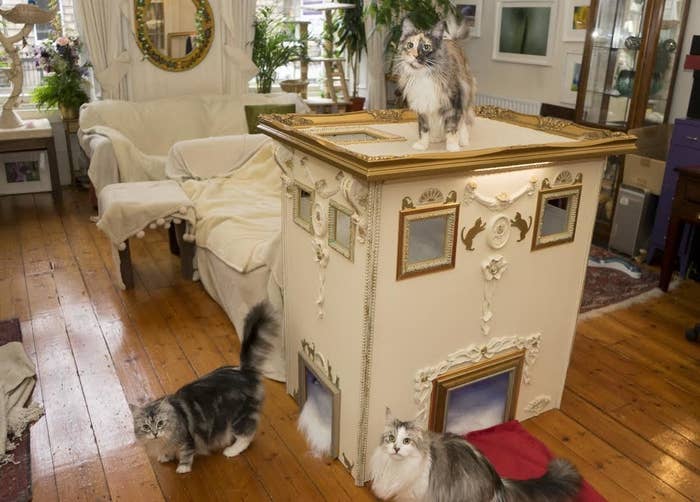 Malcolm says the cat house started off as a simple idea where he'd planned to use his picture framing workshop and materials to make a very basic cat house, but by the time he took the initial structure home, he realised it was going to be a more ambitious project. "It took up way more space than I anticipated. I thought that since it was so big it might as well look like a really nice piece of furniture to have in the living room. Plus the cats took an instant like to sitting on the roof of it so I thought I'd make the roof a real feature. From there it just escalated and got more and more grand looking."
The sovereignty survey their kingdom from the royal roof terrace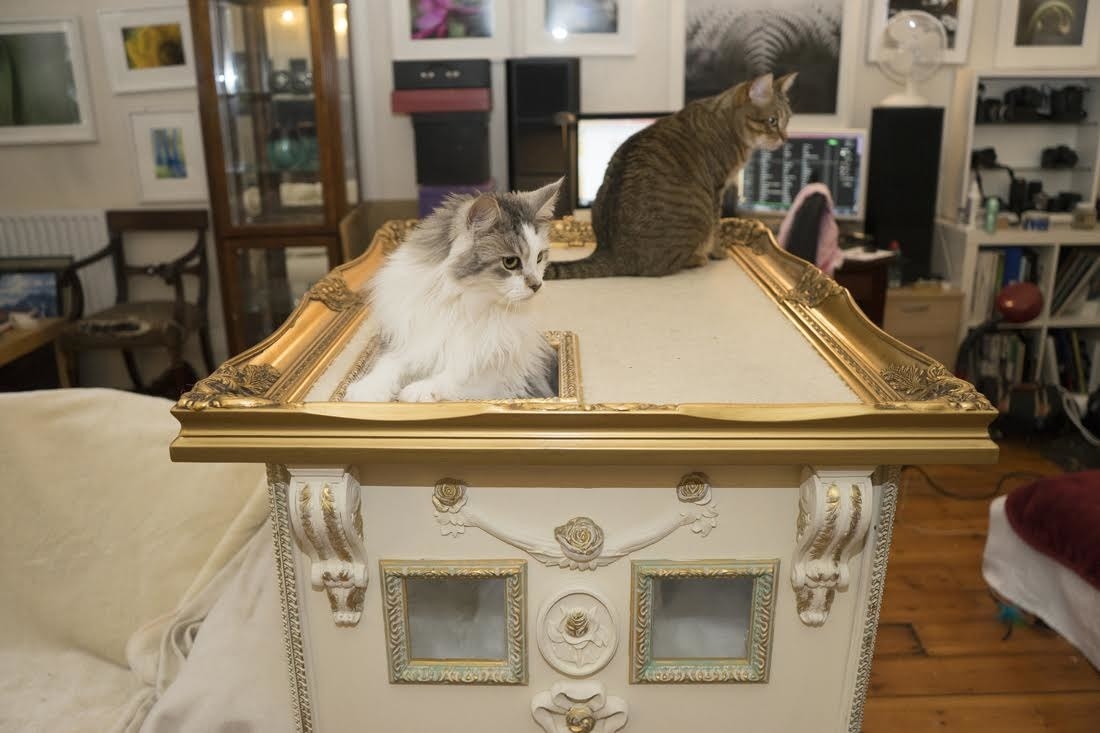 "The design was pretty much original," Malcolm says. "I thought a faux classical look would be quite fun, like it really belonged in Versailles. Plus the frame material I got from my work was gold so that dictated things to a certain extent. The rest of the design was really for the cats. I wanted them to be able to climb up inside it from the ground to the top or vice-versa. I have it sitting next to my sofa so they actually can quite easily just leap straight onto the roof without going up inside."
Malcolm could have built a basic platform for his cats to perch on, but said that they were already well catered for in that department and that he wanted to offer them something a little different. "Some cat furniture, cat trees etc, can be quite ugly to have cluttering up your living room so I thought I'd make something really special," he said. "All the cats here are indoor only cats so I feel I have to go that extra mile keeping them stimulated and making sure they're well catered for. "
"I am the Queen of all cat-dom"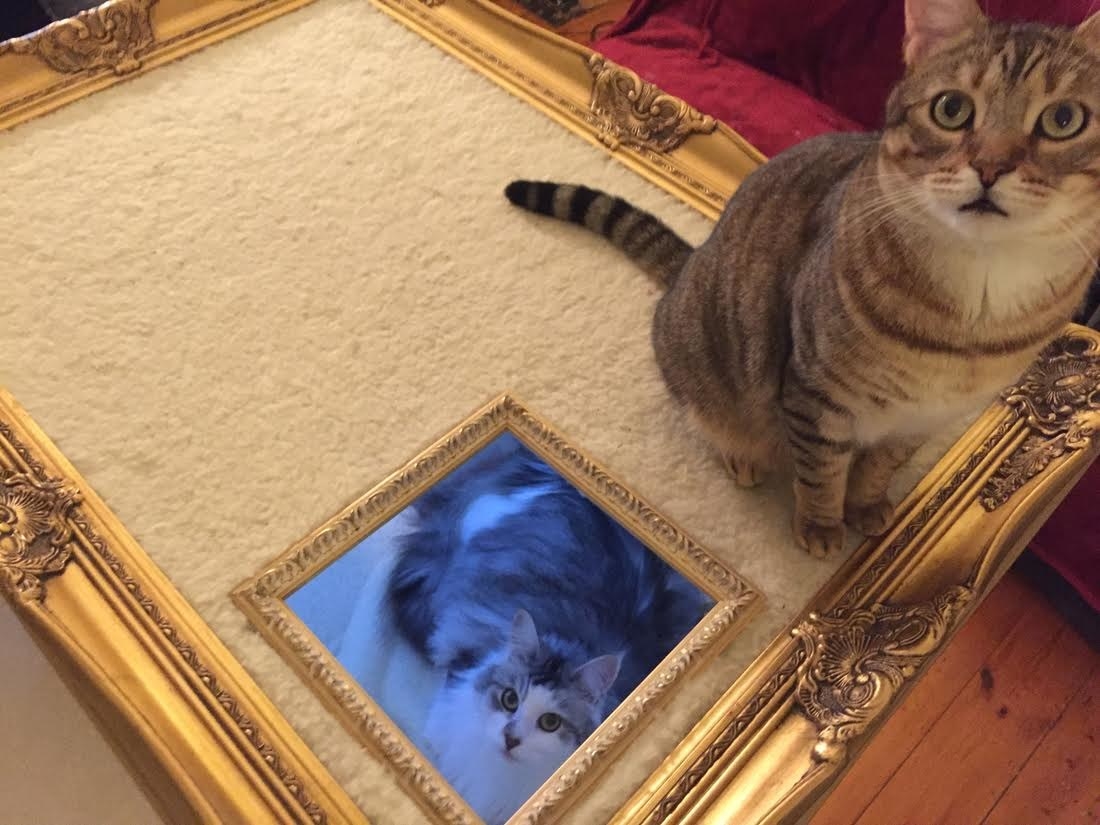 Malcolm's cats all seem to approve. "They love it." Malcolm says. "They love sitting on the roof, which gets used all the time but they also go inside it. I've added extra fluffy bedding material to the inside, which they like a lot." Well, what cat doesn't want a comfy perch to survey their kingdom?
"If you're not of royal blood, you can't come in"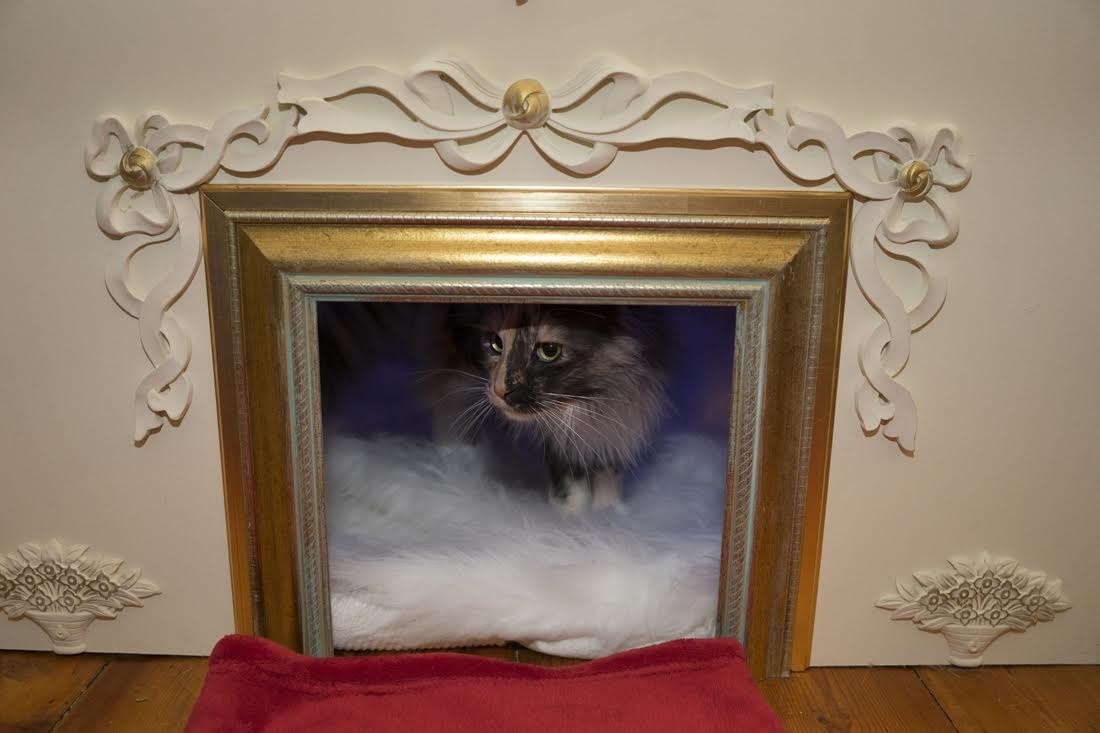 Malcolm says that whilst his cats weren't really in need of another cat house, he decided to create this unique house for his own amusement as well as theirs, and that he's had a lot of fun being creative with it, particularly decking out the inside in such a unique way.
"This gallery is for supreme rulers only"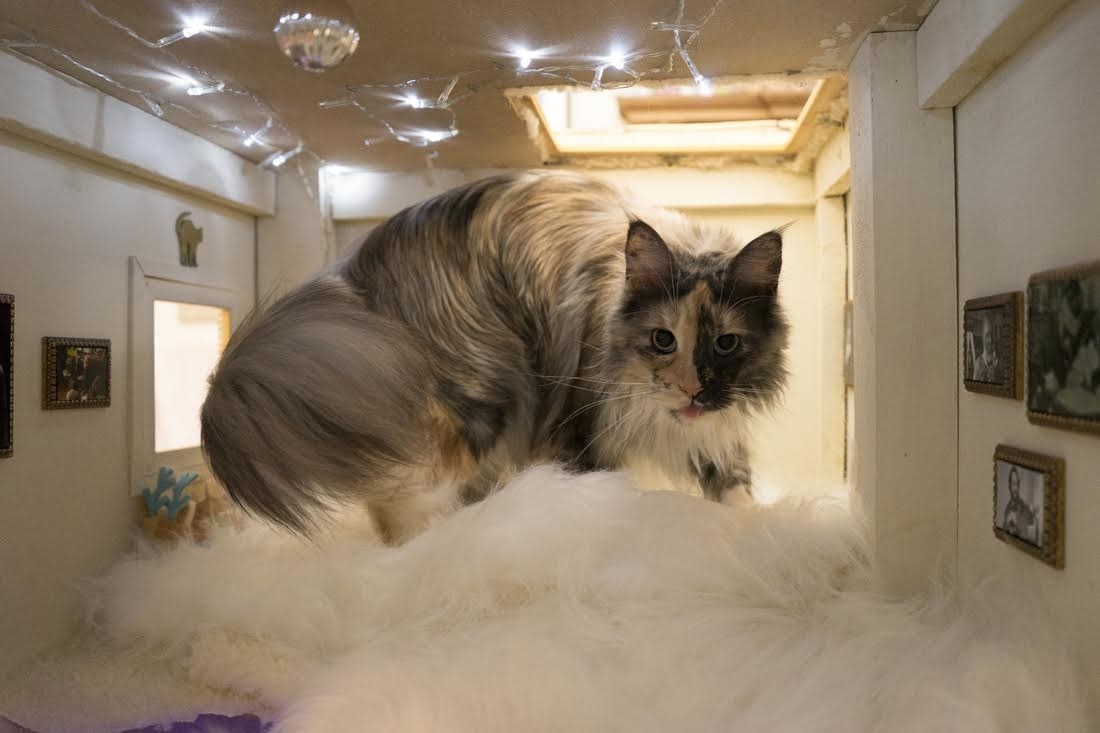 Malcolm was so enthused to create a cat house like no other, that he made one of the floors a working art gallery. "The upstairs 'room' seemed a bit bare once I got it finished," he says, "so I thought putting some pictures on the walls would help brighten things up. It's also a real talking point when people see it. It's appreciated by cats and people alike hopefully. The cat house is designed so I can get inside it quite easily so I can swap the pictures about. I like the idea of having mini exhibitions."
Malcolm has curated the first exhibition with a theme of 'Crazy Cat Men'. "Being a guy myself I thought dispelling the traditional notion of the crazy cat lady seemed like a good idea for a theme. David Bowie, Brian Eno, Gustav Klimt and Earnest Hemingway, all photographed with their cats, are just some of the crazy cat men on show."
Art fit for a King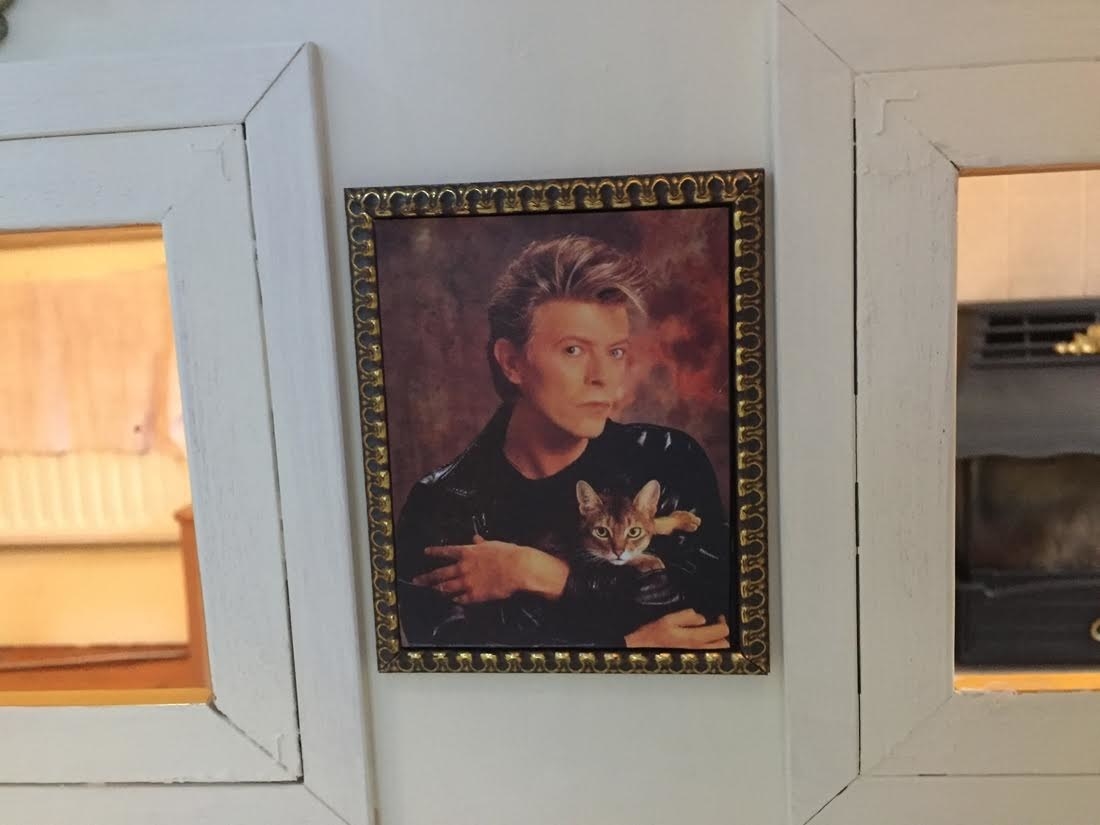 Comfortable thrones are important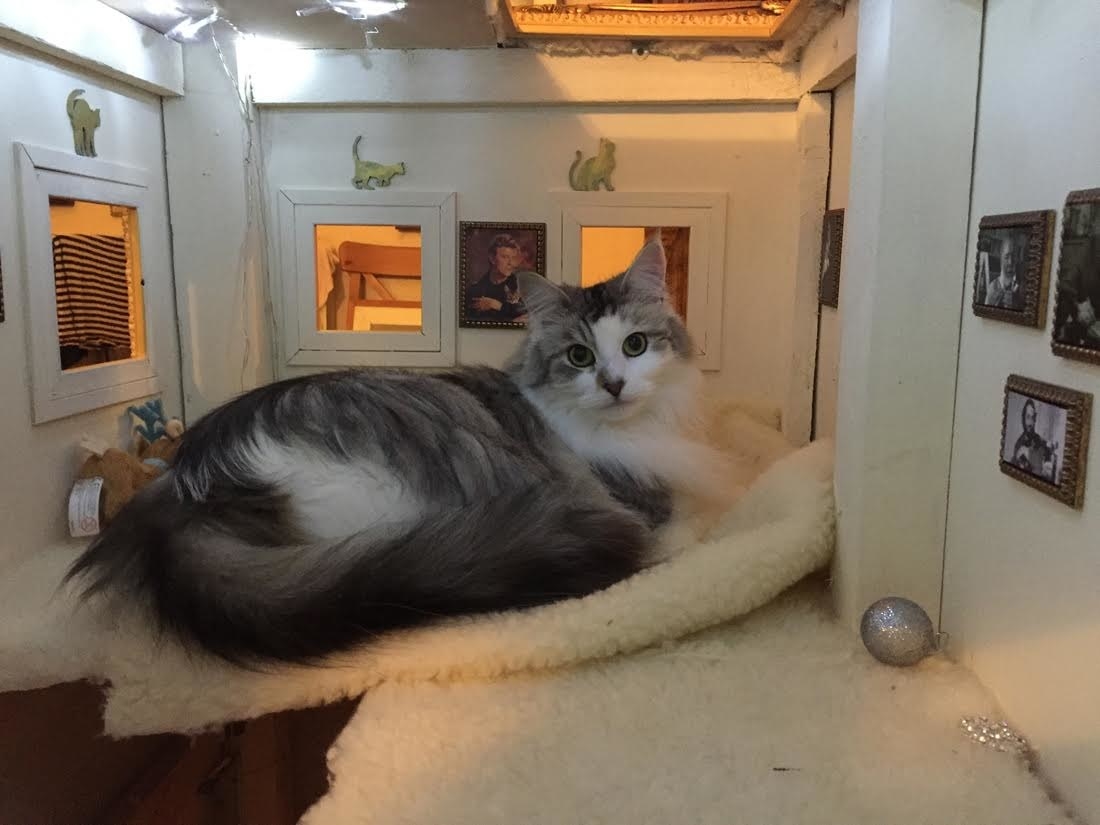 People have responded so keenly to Malcolm's unique cat house design that he's now considering taking orders for more: "I am thinking about making another to sell. This one was a bit of a labour of love and took almost 5 months to make and get all the bits and pieces together for. I've got an idea for a smaller design, that would be no less decorative and ornate, but would be a bit simpler to put together. I do like the idea of making unique cat furniture that's appreciated by cats and people alike."
WHERE IS MY CROWN?!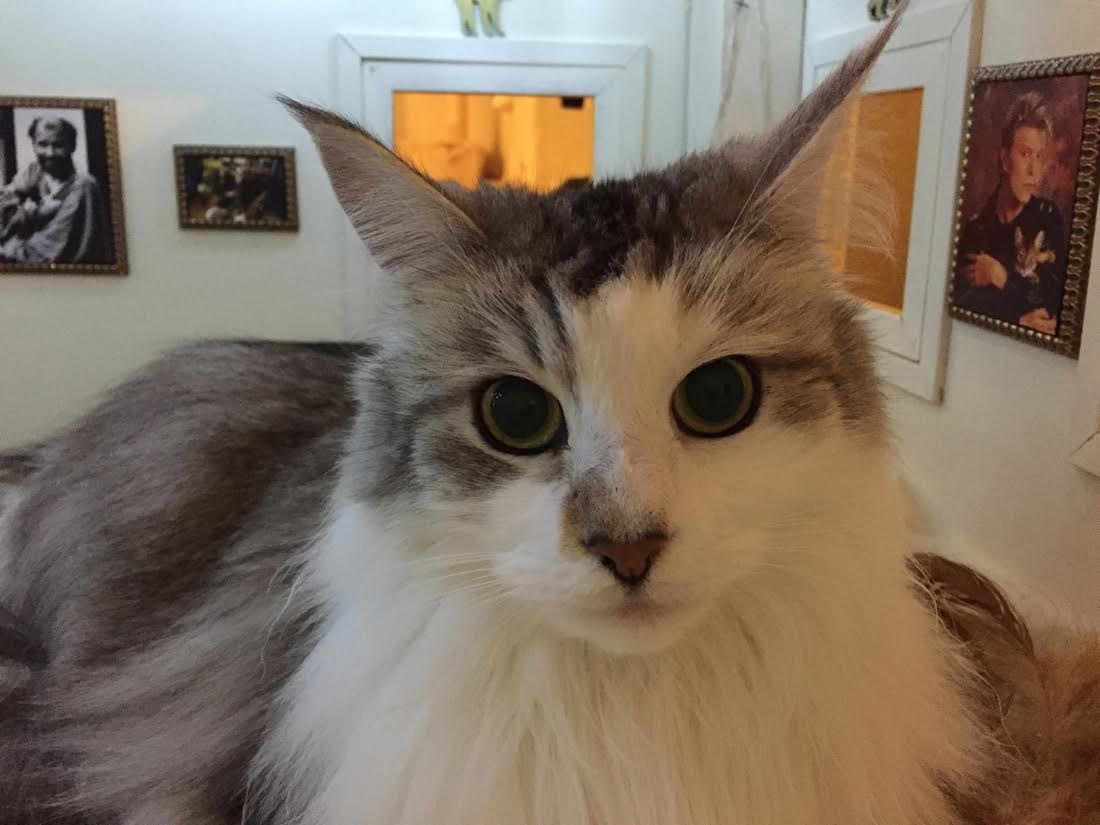 Clearly these five lucky feline lords will (comfortably) rule over their grand empire for some time.