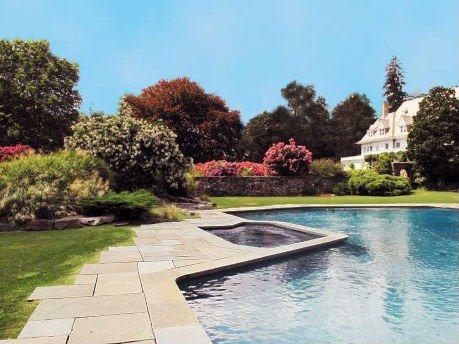 $190 million is a lot... even for Greenwich, CT
The most expensive home in America and most likely the most expensive home ever, was recently listed for $190 million in Connecticut's swanky Greenwich.
At nearly $200 million, the home is more than a cut above other most expensive homes.
There's Versace's former home, priced at $100 million, Steven Cohen's $115 million apartment and a Manhattan penthouse currently listed at $125 million.
Candy Spelling originally listed her home at $150 million but ended up selling it for $85 million to British heiress Petra Ecclestone. One of the most expensive sales recorded in the U.S. — the $100 million Silicon Valley estate bought by Yuri Milner — is also still significantly under the Greenwich estate ask.
So why $190 million?
The land.
The home sits on 4,000 feet of coveted waterfront property on Long Island Sound, which doesn't includes the additional access to two private islands in the Sound. The two parcels, one at 30 acres and one at 20, contain a grass tennis court, formal gardens, carriage house, apple orchard, two greenhouses and a 75-foot-long heated pool. Consider that a 75-acre Greenwich property nowhere near the water is listed at $32.5 million.
As far as the house goes, it isn't bad, although the Wall Street Journal describes as in need of a few upgrades. Heavy on Old-World charm, the 13,519-square-foot house has 12 bedrooms, 9 baths, 12-foot ceilings throughout the main rooms, a solarium with a coffered ceiling, and sleeping porches. Most of the buildings throughout the estate hold details from the home's original build date of 1898: the carriage house still has a clock tower, and the garage includes milking stalls.
The home was built by the Lauder Greenway family — George Lauder was a partner in Carnegie Steel. It was sold 31 years ago to its current owner, John Rudey, who leads several timber companies, including U.S. Timberlands Services Company and American Forest Services.
Thinking about financing a place like this? According to Zillow's mortgage calculator and assuming a 20 percent down payment (which would be $38 million) on a 30-year fixed-rate mortgage, a payment would be a whopping $687,734 per month.