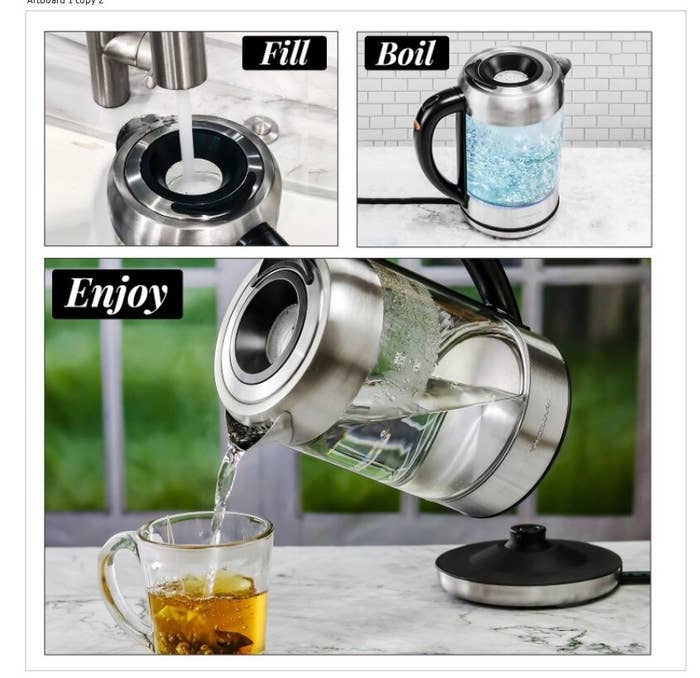 Getting good quality sleep is vital for good health… but with our busy lifestyles, sometimes sleep can be challenging! The number one reason we have trouble sleeping is stress. There's a definite connection between sleep and stress. The more stressed we are, the less we sleep, and the less we sleep, the more stressed we feel.
And of course, there is also a connection between caffeine and sleep. Caffeine keeps us awake, and it also puts us on high alert so that we are more sensitive to stressors. Cut out the caffeine, and instead brew up some delicious herbal infusions. With this amazing kettle from Ovente.com, its pronto-fill technology allows you toadd water without removing the lid! There's nothing like it on the market – just boil, pour, enjoy, and sleep soundly!
Then there are also the sleep challenges that couples face. Sharing the same bed is one thing,but sleeping next to a snoring partner – yikes! Luckily, there is a solution… drink plenty of water throughout the day and sleep with a humidifier at night to bring moisture back into the sinus membranes and reduce the intensity of snoring. This Ultrasonic Cool Mist Humidifier from Ovente.com makes all the difference - no more kicking your partner out of bed to get a good night's sleep.
We're all guilty of staying up late at night on the computer. What we don't realize is that this definitely affects our sleep. Electronic devices emit blue light that stimulates the brain, making it more difficult to get into that restful mindset necessary for sleep. Instead, listen to some meditative, soothing music. This sound system from Ovente is ideal because you can link speakers between 2 different rooms, so you can go about getting ready for bed without missing a beat!
The most important thing you can do to get good sleep is to find a mattress that is just right for you. Remember that a mattress is the foundation of a good night's sleep. If your mattress is more than 7 years old, it's time for a new one! Rest-test a few when you're out shopping. And remember, pillows need to be replaced every two years, too.
For more great tips on how to get a better sleep visit bettersleep.org.