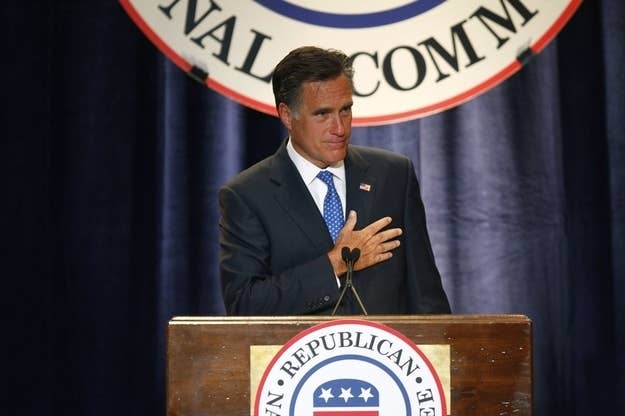 SCOTTSDALE, Ariz. — At the Republican National Committee's State Chairman meeting, presumptive Republican nominee secured the pledge of more than 120 of the Party's top 168 leaders that they will vote for him at the Republican National Convention in Tampa.
According to Romney volunteer and Michigan National Committeeman Saul Anuzis, 95 percent of the remaining members of the RNC are Romney backers, but cannot publicly or privately pledge their support due to state party rules, or upcoming local elections.
"Ninety, ninety-five percent of these guys are with us in Tampa, even if they can't put their names down," Anuzis said.
Several local chairmen, committeemen, and committeewomen face reelection in the coming weeks — and in several states like Alaska and Louisiana, Ron Paul and Rick Santorum supporters are aggressively trying to win the super-delegate seats.
Romney was greeted by extended standing ovations before and after his remarks to the gathering on Friday, and used the opportunity to thank his competition during the primary, as Sen. John McCain overtly called for the party to come together.
"You know their names, but it's a long enough list I wrote it down," Romney said as he read from the roster.
"Some still running, some have gotten out of the race, but each contributed to the process," he continued. "Thank you to this extraordinary team. We have all fought hard and well."
Romney's whip operation caused a stir on Friday when members who did not sign pledges sought to attend a private reception with Romney held before the luncheon and were rebuffed. Romney aides required that the pledges be signed for the members to meet with Romney and have their photo taken with him.
But Anuzis, who was still collecting pledges from members after Romney left to attend campaign events, said the campaign simply wants to know how many votes they will have at the convention as long as there are still opponents in the race.
A senior Romney aide brushed off the concerns of the handful of state party officials who were turned away, saying it was clearly advertised as a private event — and that they had the choice whether or not to attend under the conditions the campaign set.
The RNC vote is not simply symbolic — each state chairman, committeeman, and committeewoman has a vote at the national convention — and nearly all are allowed to cast their votes independently of the outcome of their state primary or caucus. For Romney, the pledges offer the opportunity to demonstrate that the party leadership has coalesced behind him — and their support in the states will be vital in the fall.