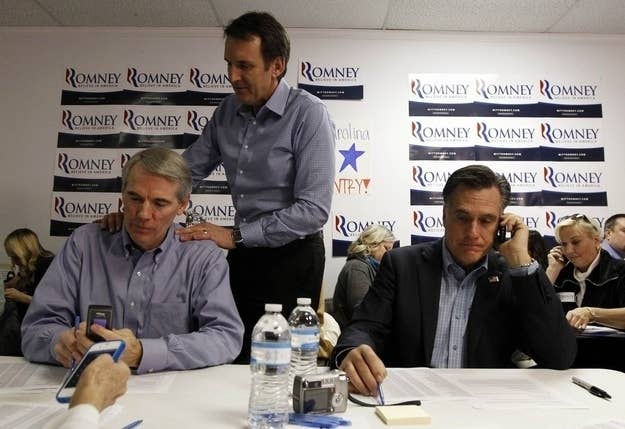 Mitt Romney's aides began last week in earnest feeding speculation that he could pick a running mate this week. That move could happen as soon as today — Romney's in Ohio, the home state of Senator Rob Portman — but expectations have settled on the end of the week.
The press has also heatedly debated Romney's plans: The New York Times this week leaned into an imminent announcement; the Wall Street Journal leaned away. And on Thursday, Romney's traveling press corps will return to Boston, with nothing yet on the candidate's public schedule. Friday will be his last opportunity to announce a running mate before his week-long foreign trip. We don't know for sure what Romney will do, but here is what we know about what Romney has on deck and the case for and against each scenario.
It's this week:
-Romney leaves the country on Tuesday night on a trip that will take him to London, Israel, and Poland. While he's gone, he'd benefit from having a running-mate in the States to drive a message, answer the inevitable attacks, carry out events, and — of course — fundraise.
-The Romney campaign is in free fall after weeks of unrelenting attacks. They really need to change the narrative, but every counterattack they've mustered thus far has fallen flat. Could picking a running mate finally move the conversation off tax returns?
-A relatively news-less foreign trip won't give Romney the jolt he needs to regain momentum, and could in fact produce a fatal stateside news vacuum.
-Overseas for a week, Romney will give every reporter he left behind time to stretch out and dig into that investigative project he or she has been saving for a slow day. If he has a VP, that's what they'll write about.
It's not this week:
-Announce on a Friday? That's when you drop bad news into the weekend news black hole, not when you try to change the narrative and build excitement behind your new ticket.
-Announce right before the Olympics? There is perhaps no bigger news black hole than the 2012 Games. The global extravaganza guaranteed to suck all the oxygen for news out of at least one network — NBC — and the rest will try to compete for those eyeballs. The Bain and tax return attacks may not go away, but there will be fewer people paying attention to them during the quadrennial sporting competition.
-Announce in New Hampshire? Yes, that's where Romney now calls home and where he announced his bid for the presidency, and yes it's a swing state — but it's only four electoral votes. Announcing in Ohio or Virginia makes a lot more sense.
-Romney is slated to have three fundraisers in the Bay Area on Sunday with notables like former Secretary of State George Schultz and HP CEO Meg Whitman, people you can't just cancel on. Also, he'd have to fly 5 hours across the country to get there, wasting another day with his VP before his foreign trip kicks off.
-Romney's five-man rotation of potential running mates has paid off generously, aides say, both in terms of fundraising and earning local news headlines. The speculation turns ordinary surrogates like Former Minnesota Gov. Tim Pawlenty and Ohio Sen. Rob Portman into "potential vice presidential nominees" and deserving of extra press and donor attention. Why spoil that now?
-The rumor mill is great for Romney — who he'll pick as his running mate is the only news story breaking through the bad Bain/tax return news cycle. Just stoke the speculation and milk it for all it's worth.