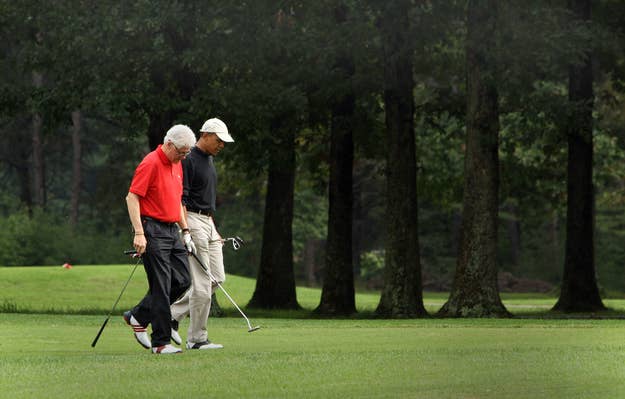 WASHINGTON — The White House Correspondents Association expressed "extreme frustration" with the Obama administration Sunday for refusing press access to President Barack Obama's golf weekend — including an appearance by golf legend Tiger Woods.
"Speaking on behalf of the White House Correspondents Association, I can say a broad cross section of our members from print, radio, online, and TV have today expressed extreme frustration to me about having absolutely no access to the President of the United States this entire weekend," said Fox News correspondent Ed Henry, the organization's president. "There is a very simple but important principle we will continue to fight for today and in the days ahead: transparency."
(This reporter, like nearly all White House correspondents, is a member of the WHCA.)
Obama golfed with donors on Saturday at the Floridian Yacht and Golf Club in Florida, with former Woods coach Butch Harmon providing pointers on several holes, White House Principal Deputy Press Secretary Josh Earnest told reporters. Woods himself played with the president on Sunday, which Earnest confirmed once they had already hit the links. News photographers sought access to photograph Obama on the course but were repeatedly denied, according to the White House pool report.
We got confirmation at 1:45 PM that POTUS had been hitting the links with Tiger Woods inside the "Floridian" golf compound, 20 minutes away from the pool hotel. Your pool has been aware since this morning that a reporter, Tim Rosaforte, had been tweeting and talking on the Golf Channel about the POTUS/Woods game from inside the compound. Still officially under a lid, we decided to assemble and at 2:10 PM we logged a request to the White House for access to the President's game for a photo-op, like this administration and previous ones have granted in the past. We were told that we were free to travel to the Floridian but wouldn't get access to POTUS. After some back and forth, our handlers finally arrived at 4:17 PM and our bus was on the move quickly afterwards. We reached the Floridian's gates at 4:37. We're holding outside the compound and we're told that the President is not moving out of the Floridian and that the lid is still in place.
It is not clear how Rosaforte was allowed to report and broadcast from the secured private compound.
"The press access granted by the White House today is entirely consistent with the press access offered for previous presidential golf outings," Earnest said in a statement. "It's also consistent with the press access promised to the White House Press Corps prior to arrival in Florida on Friday evening."
While most Obama golf outings take place without press coverage, Obama has allowed photographers on the links to snap photos of the "golf summit" with Speaker of the House John Boehner, as well as an outing with former President Bill Clinton.