Pawlenty Aces North Carolina Audition
"I never thought I would say this, but he was totally better than Trump," says one Republican as Veepstakes speculation heats up.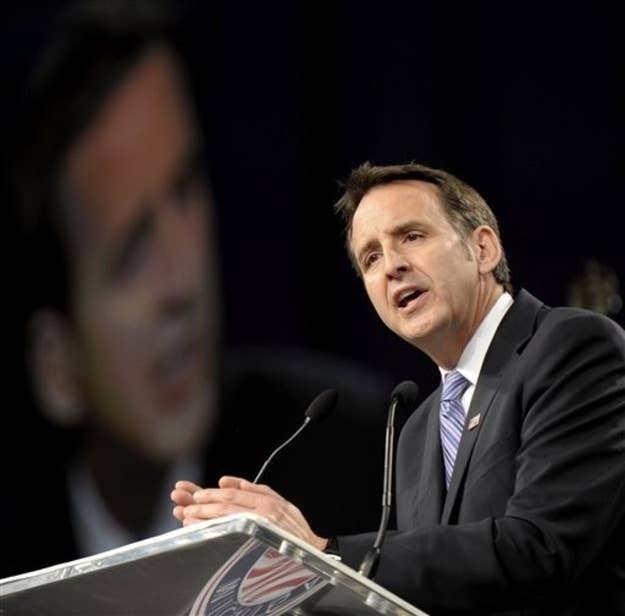 GREENSBORO, North Carolina — Former Minnesota Governor Tim Pawlenty brought down the house in a speech to the state Republican convention here, a change of pace from his sometimes-dull speaking style when he ran for President last year.
Pawlenty came out of the gate swinging. "North Carolina, have you had enough of Barack Obama's painfully high unemployment," he boomed as the crowd, caught slightly off-guard, broke into thunderous applause. "North Carolina, have you had enough of Barack Obama," he asked. "YEAH," the more than 1,000 attendees responded.
Pawlenty sharpened his own campaign stump speech and incorporated some elements of Romney's, declaring "You can't be pro-jobs and anti-business…that's like being pro-egg and anti-chicken."
"We've got to quit running the government as an open bar," Pawlenty added, comparing uncontrollable government spending to drinking at a wedding.
Pawlenty, now a national co-chair of Romney's campaign, explained Romney's platform in detail, drawing rave applause when he said that Romney will "tear Obamacare out at its roots."
Asked about his newfound ease behind the podium, Pawlenty said it's easier without consultants telling what to and not to say.
"I don't know the answer to that, other than that I speak from the heart now, I don't particularly use a script now other than a few notes," he told reporters. "I don't have a bunch of handlers telling me what to do and I just let it fly. I dunno, maybe it's the breakfast I had."
Billy Langston, an alternate delegate from Duplin County, said afterwards of Pawlenty "I just with things turned out differently, I wish he was our nominee."
"But he'd be a great addition to the ticket for Mitt Romney," he added.
Others echoed that sentiment, saying Pawlenty's speech topped Donald Trump's speech the night before, which was overshadowed by Trump's claims about Obama's birthplace.
"I never thought I would say this, but he was totally better than Trump," said one young Republican.
Unlike Trump who arrived in Greensboro in his private 757, Pawlenty flew commercial and drove himself to the convention center. He was spotted wandering around before the event, but found himself mobbed with well-wishers after his remarks.
Pawlenty addressed Trump's birther remarks to reporters, saying he was not concerned that they were hurting Mitt Romney.
"We're a team, everybody has to pitch in and help," Pawlenty said. "Donald Trump is trying to do what he can to advance the cause to try to get Mitt Romney elected president. That doesn't mean they're going to agree on everything, but they agree on many things, or most things. So he's somebody who can get attention, who can bring perspective to issues."
Pawlenty refused to say whether he is being vetted to be Romney's running mate, but expressed openness to doing the job if asked.
"I've tried to be consistent about it and say look, I don't think the best way for me to help Mitt Romney is to be on the VP list," he said. "I think I can help him in other ways like this, being a volunteer for his campaign. But obviously anybody would be honored if asked."