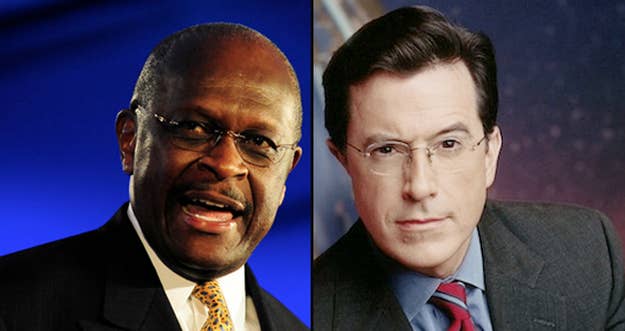 From Colbert's "campaign"
FOR IMMEDIATE catch & RELEASE
STEPHEN COLBERT ASKS SOUTH CAROLINA TO
"ROCK ME LIKE A HERMAN CAIN!"
Attention world, particularly the South Carolina part:
NEW YORK CAROLINA -- For a week now, Stephen Colbert has been calling on South Carolinians who share his values to vote for Herman Cain during this Saturday's historic GOP primary. Actually, he hasn't called on all South Carolinians yet; he's only up to "Brabham" in the Charleston phonebook.
Jr. Exploratory Committee Chairman Stephen T. Colbert said of Cain: "Herman is the only former candidate who truly shares my values. It's like our values were separated at birth. And our ethics are at least first cousins."
In support of their non-candidacies, this Friday, January 20th at 1:00 P.M. at the Cistern in front of historic Randolph Hall at the College of Charleston, Colbert and Cain will co-hold "THE ROCK ME LIKE A HERMAN CAIN: SOUTH CAIN-OLINA PRIMARY RALLY." The area will open to guests starting at noon.
Together, these two unique voices will declare that they are the same man. Indeed, if you close your eyes and don't listen, they are hard to tell apart.
"As with all my appearances on college campuses, I expect to receive an honorary degree," said the Peabody Award-winning Grammy winner. "This time, I'm hoping for a Masters of Bachelors."
Colbert said he wants "all undecided voters to vote for Cain," adding, "9-9-9."
Please direct all questions to Yahoo Answers. They always know everything.
http://answers.yahoo.com/