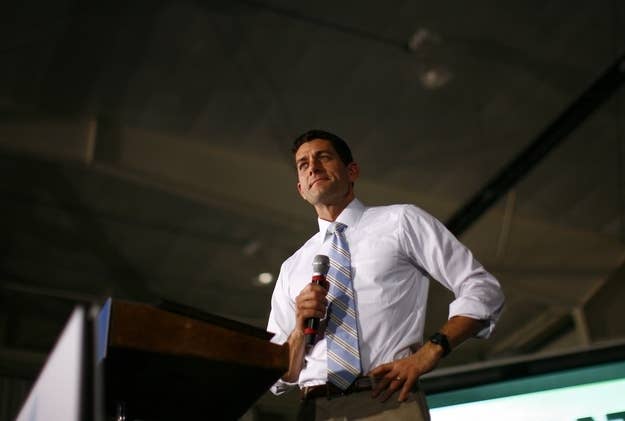 DENVER — Republican vice presidential nominee Paul Ryan told a group of Evangelical Christians Sunday that President Obama's plans threaten "Judeo-Christian values" — a dramatic charge aimed at the Republican base, and delivered during a conference call that did not appear on his public schedule.
In his remarks to what organizers said were tens of thousands of members of the Faith and Freedom Coalition, Ryan said that President Barack Obama's path for the next four years is a "dangerous" one.
"[It is] a path that compromises those values — those Judeo-Christian values that made us a great nation in the first place," he said, referring to religious liberty and Obamacare.
Criticizing Obama over his health care bill's coverage mandate for birth control, the Roman-Catholic Ryan noted that "my church is suing the federal government."
"We should not have to sue the federal government to keep our constitutional freedoms," he said. "Imagine what he would do if he actually got reelected. It just puts a chill down my spine."
According to the group's founder, former Christian Coalition official Ralph Reed, 17 million Evangelical voters didn't vote in 2008, and the group claims it plans to muster between 4 and 6 million of them to turn out to the polls this year
On the call, Ryan said he has been "sustained" on the campaign trail by the people he has met who tell him that they are praying for him.
"I can't tell you how important it is to have the prayers of the tens of thousands of people we meet across the country," Ryan said.
Ryan also highlighted his own faith, saying he keeps a rosary in his pocket and prays with his wife and children each day.
"It keeps us somber, it keeps us strong, it keeps us in a solid state of mind," he said, adding that his three kids are loving their time on the trail. "We brought their homework on the trail!"
Adding that he starts each day with the Serenity Prayer, Ryan said, "That's how the Lord sustains me — no fear."
Reed emphasized that it was the religious duty of Christians to cast their ballots, saying the "Bible clearly teaches" that there is an obligation to take part in their government.
"We believe being registered to vote, being educated, and going to the polls is part of our witness as believers, because we are dual citizens," Reed said, referring to the "Kingdom of Heaven" and the United States.
He said that his organization has the cell phone numbers of 13.2 million Evangelical voters, and plans to make 122 million voter contacts this cycle, including mail, emails, robocalls, and door knocks.
Ryan spokesman Michael Steel elaborated on Ryan's remarks, saying he "was talking about issues like religious liberty and ObamaCare — topics he has mentioned frequently during the campaign."