Ryan Greeted In Las Vegas By Protests Outside Adelson Event
Unions protest the presumptive Republican vice presidential nominee.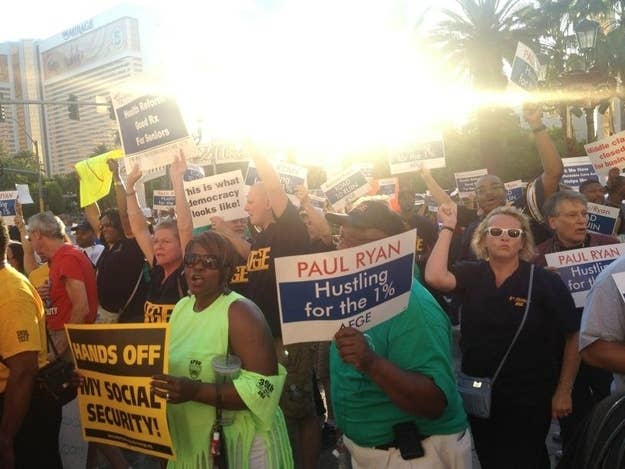 LAS VEGAS — Paul Ryan was greeted at The Venetian resort and casino by hundreds of union protesters picketing his finance meeting with Sheldon Adelson and other top campaign donors.
The protesters, from the American Federation of Government Employees and the AFL-CIO, gathered in the plaza outside the hotel with signs like "Paul Ryan: Hustling for the 1%," and "Romney/Ryan Road to Ruin."
AFGE president John Gage, who was in Las Vegas for his union's convention, told reporters that they were there to demonstrate against Ryan's proposed cuts to the federal government and Medicare.
"Romney Hood, Ryan Hood, not in our neighborhood," he said.
"Ryan, Go Home," the union members shouted. Gage said his union has 300,000 members nation-wide and estimate that about 9,000 or 10,000 are from Nevada.
Approximately 40 high-level donors gathered at what the campaign called a "finance event" featuring billionaire mega-donor Sheldon Adelson, who owns the casino. Donors dressed in suits were spotted leaving the event holding envelopes emblazoned with the Romney Victory logo, but would not talk to reporters.