Romney's New Challenge: Competing With Ryan
Palin overshadowed McCain, and Boston doesn't want a repeat. A high-class problem to have.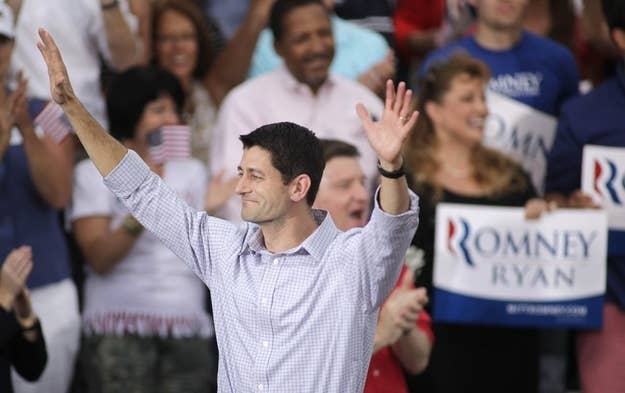 WAUKESHA, Wisconsin — Mitt Romney and Paul Ryan wrapped up a whirlwind three-state introduction tour for "America's Comeback Team," but with the candidates splitting off until Tampa later this month, Romney faces a new challenges: Competing for attention with his rock star running mate.
The last few days have been some of the Romney campaign's best, with both the crowds and Romney himself apparently electrified by a rare, daring move.
In Virginia, Romney grew hoarse as he shouted into the microphone to be heard over the cheers of thousands. In North Carolina, he joined in as an overflow crowd chanted "Paul, Paul, Paul." In Wisconsin, at a touching homecoming for his running mate, Romney teared-up watching Ryan react to the overwhelming crowd response.
"I think they enjoy each other," said Romney adviser Stuart Stevens. "They feed off each other."
Asked to explain their relationship, Stevens dismissed the notion that it is father-son (Ryan is two years older than Romney's eldest son Tagg), saying they are more like colleagues. "I think he's happy to have someone else around. He's tired of us."
Romney now faces the challenges of maintaining Ryan's momentum in his absence. In 2008, Vice Presidential nominee Sarah Palin drew crowds and attention that Senator John McCain couldn't, a dynamic that contributed to an ultimate internal meltdown. When Romney introduced Ryan in Norfolk as the "next president of the United States," he said what some conservatives hoped. He now has to remind his party and the country that he remains the larger figure.
This is, to be sure, a high-class problem, and a dynamic the campaign deliberately created. The pick built on a sense of suspense that the Romney campaign had been building up for weeks with emails, texts, and an iPhone app. The surprise late-Friday night reveal only heightened the drama. And the dynamic, young, good looking, and well spoken congressman fit the bill perfectly.
The crowds on their first two days on the trail together were wild, with many waiting hours outdoors in heat and humidity, or worse, in a crammed and poorly ventilated warehouse. But they cheered and cheered and cheered and stomped and banged — something Mitt Romney is barely accustomed to. Indeed it seemed to catch him off guard in Manassas, Virginia when he tripped over his words twice amid deafening applause.
At the NASCAR Technical Institute in Moorseville, North Carolina, attended by thousands, Romney couldn't be more comfortable as he talked about a subject he'd tripped on during the primary. He had a moment with the car behind him painted with his campaign logo.
"You see, as a boy, my dad made Ramblers, alright," he said. "And I only dreamed of cars like that. To have my name on a car like that, it's just too much."
At Sunday night's rally in Waukesha Ryan fired up the crowd by saying his "veins run with cheese, bratwurst, and a little Spotted Cow and some Miller's," his voice cracking as a man shouted "I love you Paul." Romney catered to the crowd's raw emotions after they watched Ryan wipe away tears, telling the moving story of an Olympic athlete carrying the flag from Ground Zero at the 2002 Olympic Games.
Now Ryan won't be there to pump up crowds for Mitt Romney for weeks, as they take separate paths to the convention. Romney aides say privately that they aren't sure yet how Romney will react on the stump without his running-mate at his side when the initial glow of the announcement begins to fade.
Stevens joked to reporters that to keep up the excitement, "You pick someone new every day...Secretary of State…"
One way the campaign will make clear who's in charge, however, is keeping other major players out on the road with Romney. In Florida today, Sen. Marco Rubio and Attorney General Pam Bondi are both present to pump up the crowd. In Ohio tomorrow, Sen. Rob Portman will join Romney to provide a local boost.