Romney Will Aim For A Personal Contrast In Israel
Symbolic politics in the Holy Land. "President Obama is cool and detached on Israel as he is on most issues, while Israel is one of the few issues to which Romney seems instinctively and emotionally attached."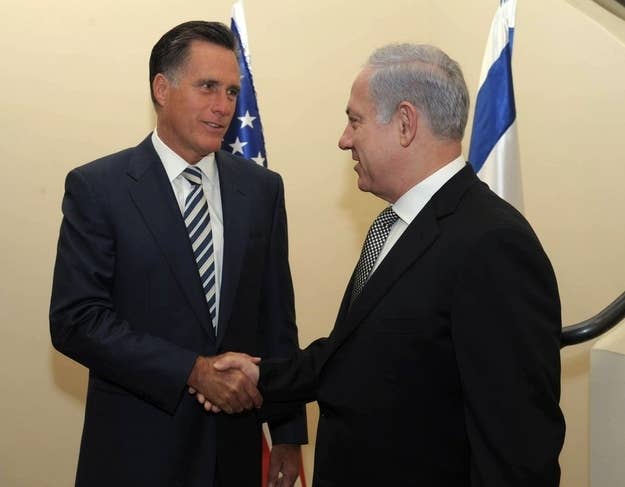 For Mitt Romney, Israel may be one place where he can do what Barack Obama hasn't: Connect.
Romney's planned trip to the Holy Land, first reported by The New York Times Tuesday, and confirmed by the campaign, is a move that has less to do with foreign policy than with symbolism, with Israel representing both Romney's tough, undiplomatic international posture and his eagerness to find the emotional connection with American voters that seems to come more easily to the incumbent.
"Supporters of Israel want to be loved constantly," said Middle-East peace process scholar Aaron David Miller, a former State Department official. "President Obama is cool and detached on Israel as he is on most issues, while Israel is one of the few issues to which Romney seems instinctively and emotionally attached."
Romney, who worked for a time alongside Israeli Prime Minister Benjamin Netanyahu when the two were young consultants in Boston, has advertised that unusual personal connection to a foreign leader. And for a candidate who can be stiff and nuanced in talking about hot-button policy issues, he's honed a clear, uncompromising message on Israel that's tailored both to the country's most hawkish supporters and to Americans who overwhelmingly sympathize with the Jewish State over its Arab neighbors.
"I would not want to show a dime's worth of distance between ourselves and our allies like Israel," Romney said last month of his Middle East efforts.
Romney, who has loaded his campaign with neoconservative thinkers, told the Evangelical Christian Faith and Freedom Coalition last month that his Israel policy would essentially be "the opposite" of Obama's, though the policy differences between them are fairly slim: Both pledge tough talk, and a possibility of military action, on Iran; Romney says he will not pressure Israel to give up land while Obama, who has tried occasionally to force negotiations, has largely abandoned that tack.
"I think, by and large, you can just look at the things the president has done and do the opposite," Romney told the group to a standing ovation. "You look at his policies with regards to Iran, he's almost sounded like he's more frightened that Israel might take military action than he's concerned that Iran might become nuclear."
Obama's defenders downplay the differences.
"What does the opposite of all that even look like?" asked Steve Rabinowitz, a Democratic consultant who has long worked with the American Jewish community, noting Obama has increased military assistance to Israel and placed the toughest sanctions on Iran.
"There is no alternative plan, only wholesale criticism of Obama's policy," Rabinowitz added.
"It's really hard to see what Mitt Romney would do other than talk to the Israelis with a more sympathetic tone," said Miller. "He can't make the argument that 'my predator drone is bigger than your predator drone' or because Obama has essentially been George bush on steroids in that regard. It's about perception."
But in a region where rhetoric is closely scrutinized, Romney is striving for a clear difference, and a stage in Jerusalem may help him find it.
Noah Pollak, the executive director of the conservative Emergency Committee for Israel, predicted that Romney would aim for a personal contrast, not a policy critique.
"It would be improper for him to attack Obama on foreign soil… so he'll have to give a speech that lays out his different vision and his critique of how Obama handles the relationship, but in positive terms," Pollak said, recalling Netanyahu's own well-received speech to Congress last year. "He should look to none other than Netanyahu for how to do this. It's exactly how Bibi eviscerated Obama in his speech to Congress last year, the speech with dozens of standing ovations."
William Daroff, the Vice President for Public Policy of The Jewish Federations of North America, said Romney's personal ties to the Prime Minister will be on full display — implicitly drawing a contrast with Obama, whose relations with Netanyahu are legendarily chilly.
"It is conventional wisdom that Obama and Netanyahu do not have the closest of personal relationships," said Daroff, arguing that the "visuals and contrasts" Romney draws will be what is judged in the United States. "I am sure that Romney will want to showcase his neatly 40 year friendship with the Prime Minister, going back to their days as youngsters in the finance world."