Romney Survives
His opponents had one last chance to derail him, and he emerged mostly unscathed. McKay Coppins reports from Concord and Zeke Miller reports from New York.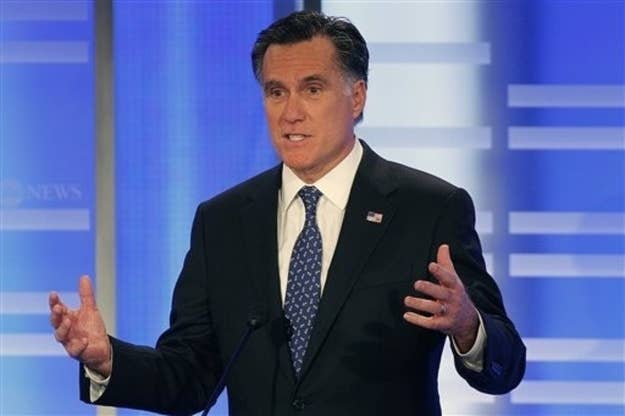 Former Massachusetts Gov. Mitt Romney did not have his strongest debate performance today, but he did the only thing he had to do &mdash: he kept his head down and emerged mostly unscathed.
No candidate succeeded in jeopardizing Romney's chances in South Carolina by attacking him from the right — and in New Hampshire he's still out of reach.
Romney senior advisor Eric Fehrnstrom was almost giddy after the debate was over.
"I think they all came into the debate with the view that this was their last opportunity to knock Governor Romney off his game and they failed," he told BuzzFeed. "It reminds me of that old Pat Benatar song, hit me with your best shot. Except Mitt Romney absorbed their best shot."
Romney did give up a few points that will come back and hurt him in the general election, implying that politics is only for the rich. He also attacked Jon Huntsman for serving as Ambassador to China under President Barack Obama, drawing a hard-hitting retort from Huntsman that Romney's rhetoric was dividing America.
But Fehrnstrom said the campaign has grown accustomed to attacks, and touted his candidate's ability to dismantle criticism as a general election advantage. He added that Republican voters want to see their nominee talk tough.
"We don't sit around and suck our thumbs and lie about in the fetal position, we fight back. An that's what republicans expect from their candidate."
Former New Hampshire Gov. John Sununu didn't declare victory after the debate, predicting "a long, long haul" to the nomination. But he rejected the notion that Republicans are reluctant to rally behind Romney's campaign.
"Whatever you say about support for Gov. Romney, they're all a lot more reluctant to support the other guys," he said. "You've got a winner here."
Romney's poll numbers have been trending downward in New Hampshire, falling eight points in the past week in the Suffolk University tracking poll, but he still leads the field by double digits. In South Carolina he's also up by nearly 20 points.
These margins may close, but the other candidates will be hard-pressed to catch him without the sort of major stumble that they tried -- but failed -- to produce today.