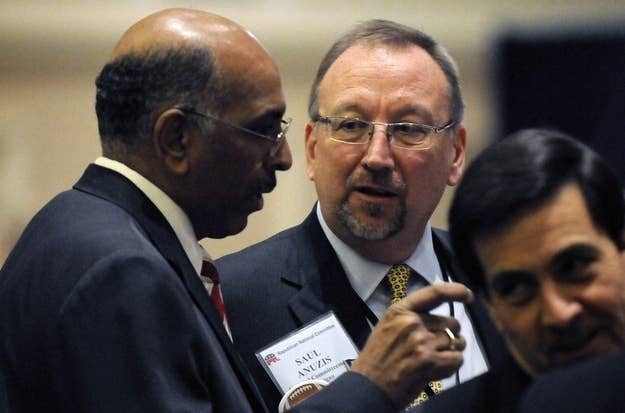 LANSING, Michigan—Saul Anuzis, the GOP National Committeeman for Michigan and a Romney endorser, predicts a Romney sweep in Michigan tomorrow, but not necessarily because he has the most votes.
Speaking to reporters at a Rick Santorum rally here, Anuzis explained that Michigan's delegate apportionment system will give two delegates to the winner of each of the state's 14 congressional districts, and two more given to the candidate with the most overall votes.
Based on the campaign's internal data, Anuzis said Romney will win between 10 and 12 of those districts — scoring at least 20-24 of the state's 30 delegates — while Santorum may win the rest.
But many of Romney's delegates will come from Democratic-leaning districts where turnout will be low, Anuzis said, while Santorum will draw the most votes in the state's more conservative areas. That leaves open the possibility that Romney wins the delegate vote, but not the popular vote count, a scenario similar to the one voters saw in the 2000 general election where George W. Bush won the Electoral College count, but lost the popular vote.
"Romney could potentially win the delegate vote but lose the popular vote," he said, acknowledging that it would not give Romney's campaign the jolt they are hoping for. "But the bottom line is that we're going to be counting delegates," he said, calling a win a win.
"At the end of the day, Romney has got a 50 state campaign," he said. "Santorum is walking in here with zero delegates awarded. He really needs to try to make something happen here and that's not happening."