Romney Marches In The "Most Patriotic" Fourth Of July Parade In The Universe
In Wolfeboro, New Hampshire, Americana and politics on display. "I love our flag.... I always win."
WOLFEBORO, New Hampshire — Mitt Romney celebrated the Fourth of July in "the coolest town in America," in the words of his wife Ann, marching in a two-hour long parade down Main Street in this picturesque resort town.
Romney, who is on a week-long vacation from the campaign, addressed supporters after the parade, thanking his neighbors for the "the warmest and most patriotic" parade in "this little corner of paradise."
Despite the oppressive sun and heat, Romney was clearly relaxed and upbeat, shaking hands along the more than one mile route with his children and grandchildren in tow — many wearing matching Romney for President t-shirts. Along Main Street, supporters cheered and took photos, chanting "Go, Mitt, go! Go, Mitt, go!"
"I love our flag. I love the heroism of those who built this great country," Romney said from the back of a black Chevy pickup truck.
Romney recounted his search for a campaign slogan last year, saying "The idea that actually I landed on was as simple as this — we 'Believe in America,'" adding that he wants "to make America more like America."
Romney also praised a throng of Obama supporters, marching a quarter-mile ahead of him in the procession and standing not far from where he was delivering his remarks, Romney for their courtesy.
"They were courteous and respectful, and said 'good luck to you' and 'happy fourth of July.'" the Republican said.
Earlier Romney staffers holding signs blocked a group of Obama supporters from view as the candidate passed.
With sweat beading at his neck, Romney paid $1 to buy a cup of lemonade from kids on the side of the parade route and drank it all in one gulp. A boy in a Red Sox hat chased after Romney to give him his $.50 change, but a Secret Service agent did not allow him to get near the candidate.
Asked by a reporter how he is holding up in the family's competitive "Romney Olympics," the presumptive Republican nominee declined to answer. His son Josh, who won last year, said he is again in the lead.
"I always win," he shouted to reporters.
Christmas In July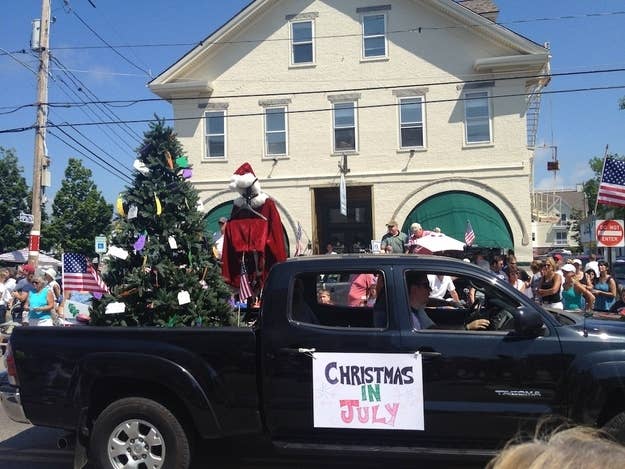 Antique Cars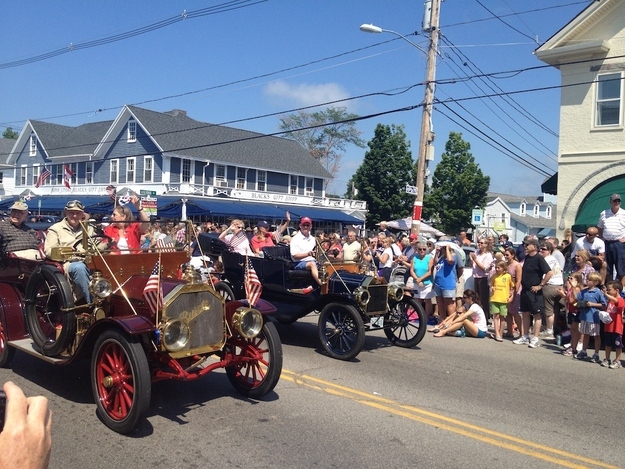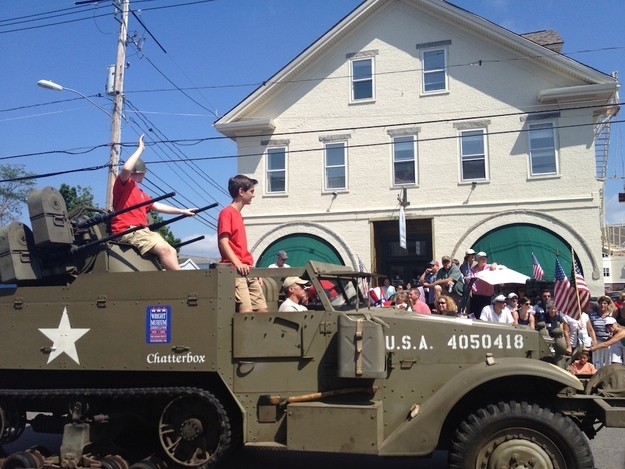 Beer Float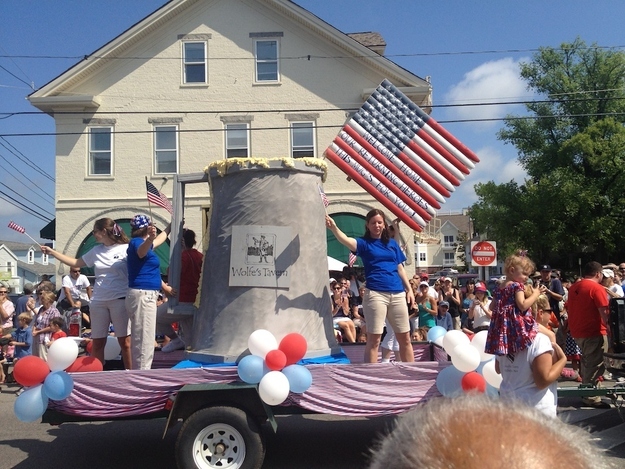 Mobile Pizza Oven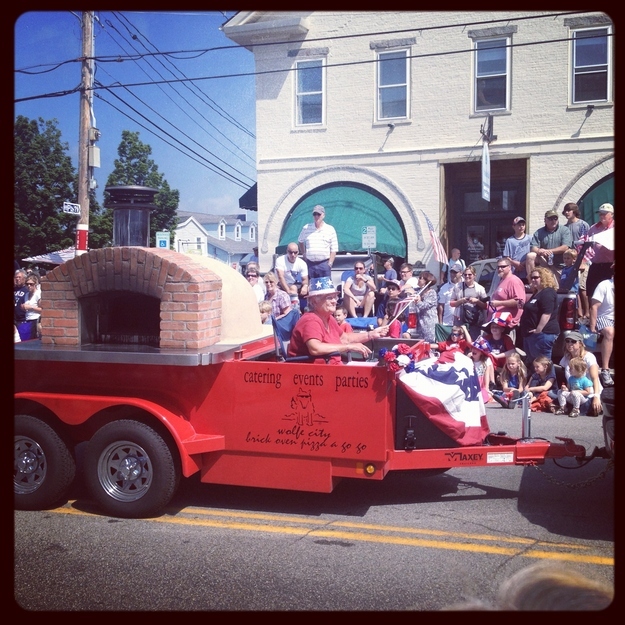 Romney Dump Truck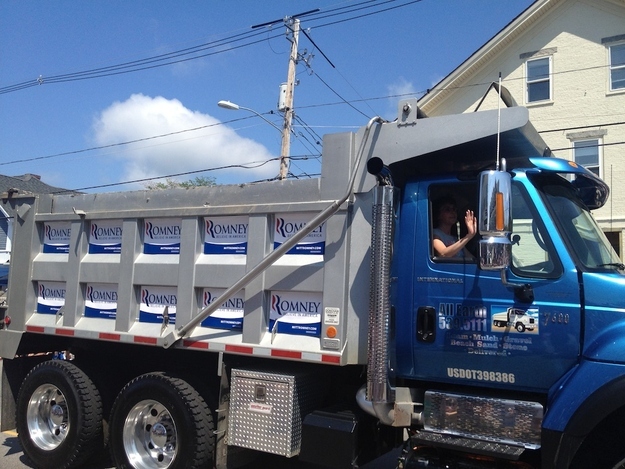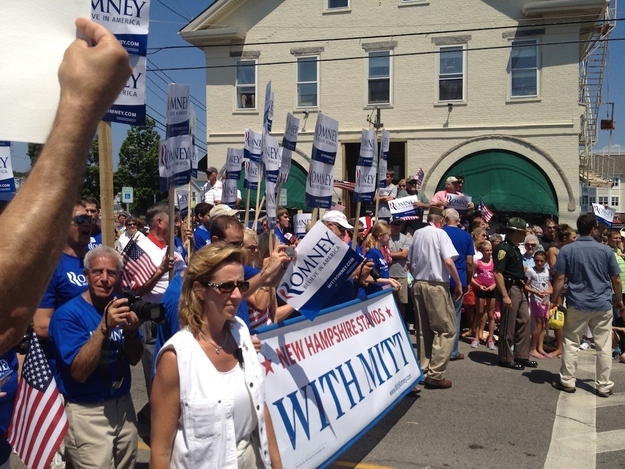 Puppets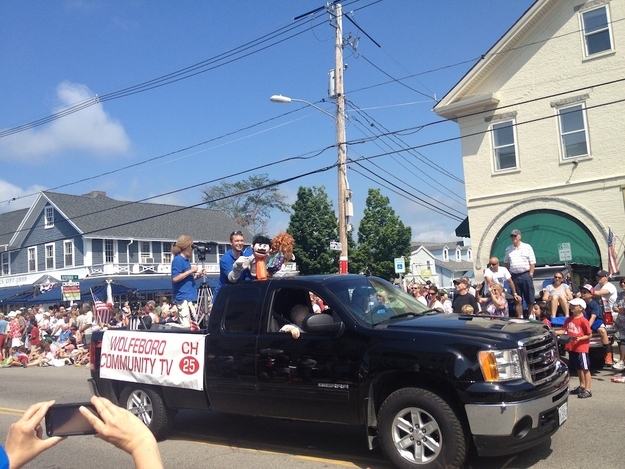 "Elvis"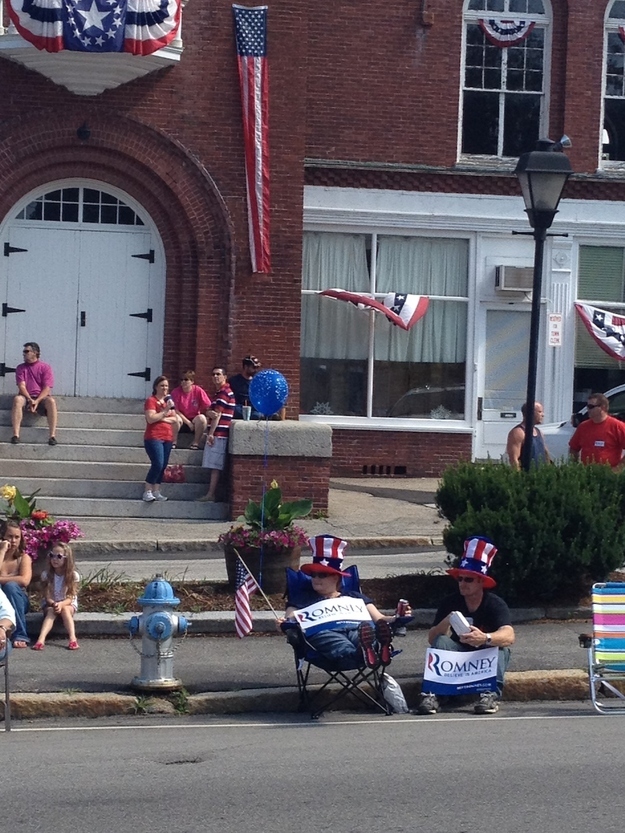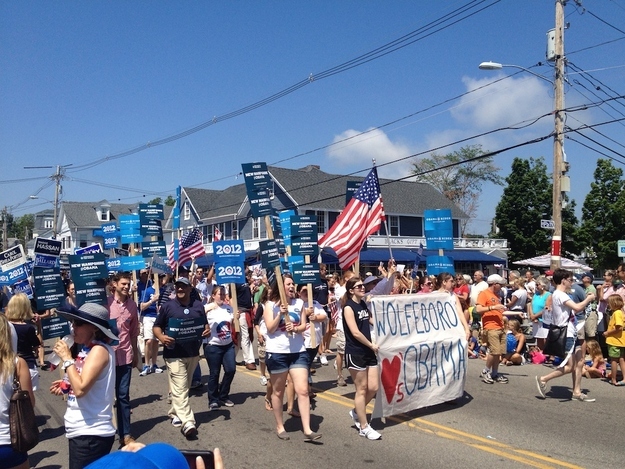 The "Chair Drill Team"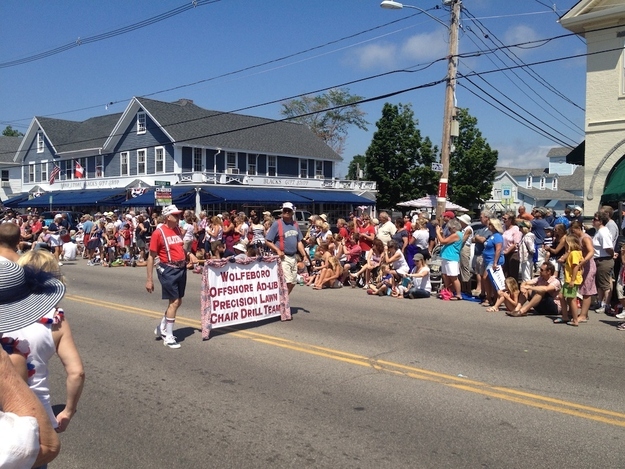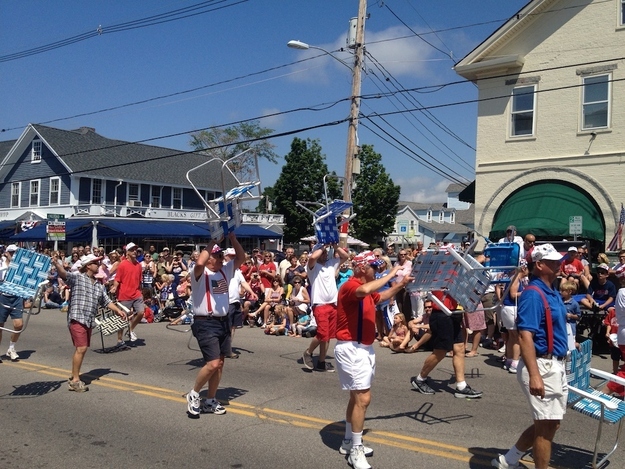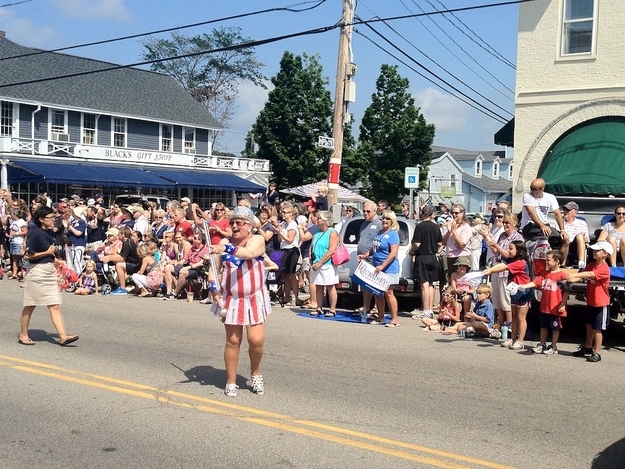 "Moose Mountain Jazz Band"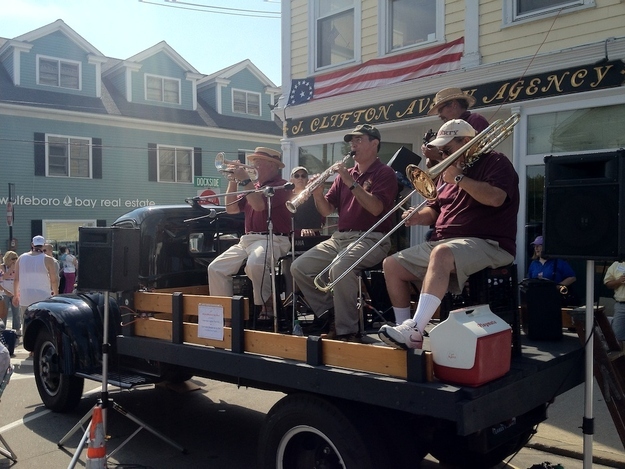 "Back To Back World War Champs"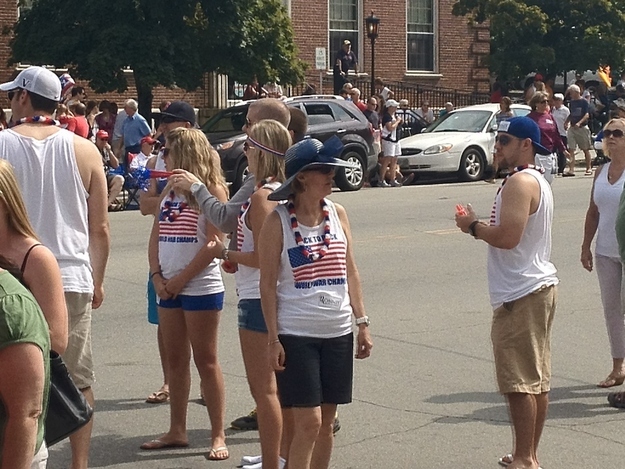 A "Bevy" Of Romneys On A Trolley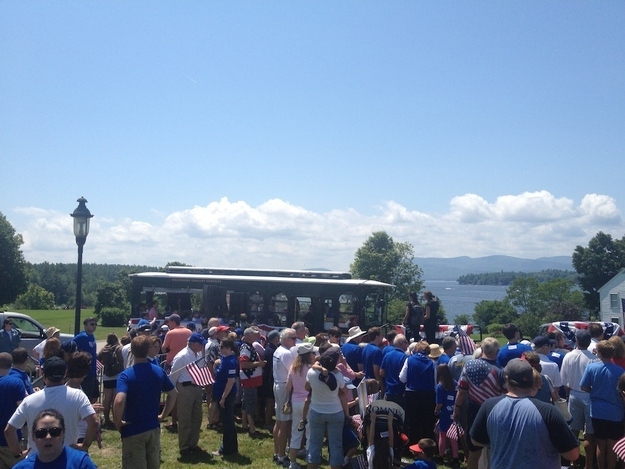 Obama And Romney Supporters Face Off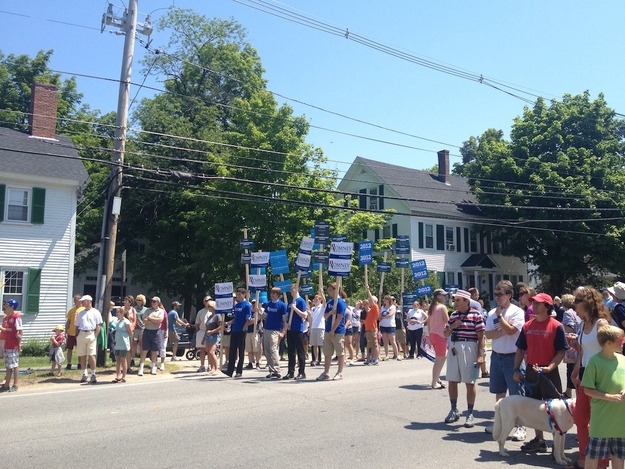 Obama Supporters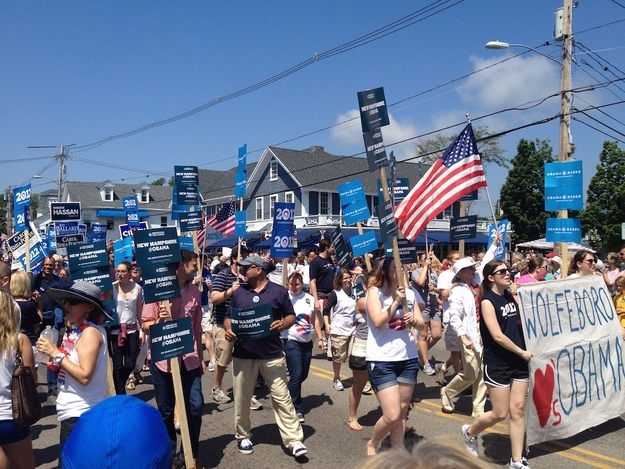 Romney Buys Lemonade