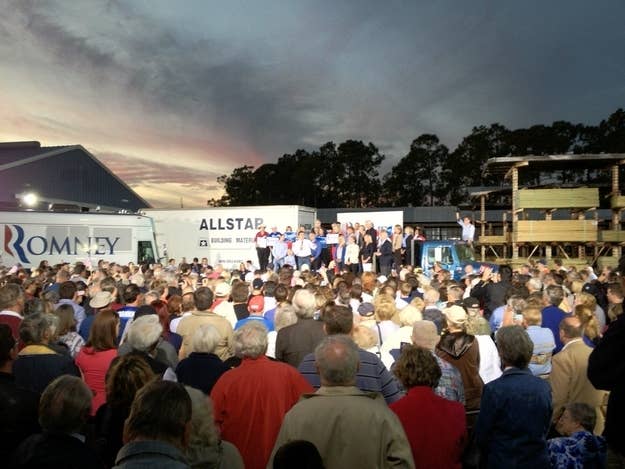 ORMOND BEACH, Florida—Mitt Romney launched his most personal attack yet on former Speaker of the House Newt Gingrich today, calling him a "failed leader" who had to "resign in disgrace.
"At the end of four years it was proven he was a failed leader, and he had to resign in disgrace — how many of you knew that?" Romney emphasized a day after Gingrich won a blow-out victory in the South Carolina primary. "He actually had to resign after four years in disgrace...He has not had a record of successful leadership."
Gingrich's name drew boos from an enthusiastic audience when Romney first mentioned him at a sunset rally in a lumber yard.
"What's he been doing for fifteen years — he's been working as a lobbyist and selling influence around Washington," Romney said.
He called on Gingrich to release his work-product from his years working for Freddie Mac, emphasizing that the government-backed lender played a major role in the housing bubble and subsequent collapse, which has disproportionally impacted Florida residents.
Romney also raised the House Ethics Committee investigation into Gingrich's financial records, noting than Gingrich had to pay a fine as a result.
The broadside is just the first wave of attacks against Gingrich in Florida, as he seeks to prevent the former speaker from gaining momentum from his victory in South Carolina.