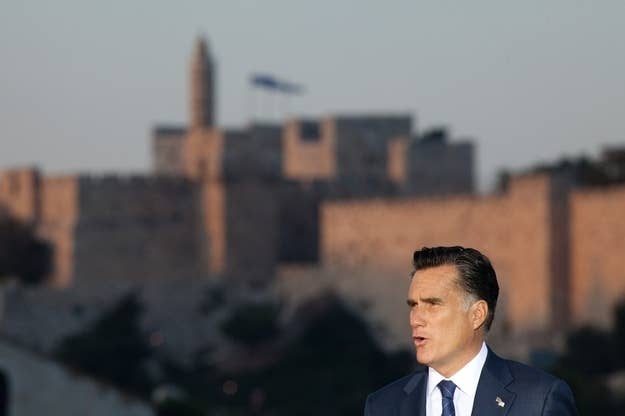 JERUSALEM — Mitt Romney's 36 hours in Israel were time well spent: He made a strong and favorable impression on the residents of the Jewish State, and he wowed a key group of the donors who fund his campaign.
Israeli headlines were overwhelmingly positive on Romney's trip, which drew banner headlines in the Hebrew and English-language press — a welcome contrast to Romney's first stop in London, where the press and politicians laid into him for doubting Britain's readiness for the Olympic games.
Romney was greeted enthusiastically by Prime Minister Benjamin Netanyahu — who he first met when they worked together at Boston Consulting Group in the 1970s. The Prime Minister who went out of his way to stress that the two men have a personal relationship, something that he'd earlier cast into doubt, and came as close to an endorsement of the Republican as any foreign leader is likely to do.
"Governor Romney, Mitt, I wanted to welcome you to Jerusalem," Netanyahu said Sunday. "We've known each other for many decades, since you were a young man, but for some reason, you still look young. You've been a personal friend of mine and a strong friend of the state of Israel, and that's why it's a pleasure to welcome you here," Netanyahu said.
And Netanyahu offered Romney bankable political capital to take home, dismissing the Obama Administration's effort to tighten sanctions on Iran, which, he said, "hasn't stopped the country's nuclear program by "one iota."
Romney expressed his love for Israel in remarks Sunday night, and later to Netanyahu over a dinner breaking the Jewish fast of Tisha B'Av, which commemorates the destruction of the first and second temples in the Jewish religion. Romney drove home the point again to a group of largely American Jewish donors on Monday morning who came along for the trip.
"I am overwhelmingly impressed with the hand of providence, whenever it chooses to apply itself, and also the greatness of the human spirit, and how individuals who reach for greatness and have purpose above themselves are able to build and accomplish things that could only be done by a species created in the image of God," he said over breakfast in an ornate dining room off the lobby of the historic King David Hotel. "I come to this place, therefore, with a sense of profound humility, as I look around here at great people who've accomplished a great thing, and also a sense of spiritual connection, acknowledging the hand of providence in establishing this place and making it a holy city."
Philip Rosen, a New York lawyer and Romney bundler who gathered many of the American donors living in Israel, called the trip a "love-fest" for Israel, but the same can be said of the trip's impact on Romney's donors, who may in the current era of lightly-regulated cash give unlimited sums to the SuperPAC supporting him.
They were treated to a walking tour of Jerusalem on Saturday night followed by a dinner overlooking the Old City. On Sunday, many followed Romney to the Western Wall where he prayed and placed a letter in the cracks of the ancient stones, in one of the most moving moments of the trip for Romney and his aides. That evening, they were treated to front-row seats to Romney's speech highlighting the enduring alliance between the United States and Israel. And on Monday, they met with Romney at the $1 million roundtable fundraiser — and some donors had the opportunity to pose for pictures with the former Massachusetts governor. Romney fundraiser Lisa Spies — the wife of super PAC Restore Our Future treasure Charlie Spies — and National Finance Chairman shepherded donors from place to place.
"He did a fantastic job, and it was a bone-chilling experience for a first-time visitor to Israel," said Bob Pence, a real estate developer displaying a Hebrew button bearing Romney's name and a gold donor's pin.
Romney made fewer friends across the Green Line in the West Bank, where he drew charges of racism for contrasting Israel's wealth with Palestinian poverty.
But for the purposes of American politics, Romney appears to have accomplished what he set out to do.
"It looks like it went very well," said Sheldon Adelson after the fundraiser, declining to comment on the financial performance of the trip. "The fact that he's here, he's certainly much better than Obama, who hasn't come: His first foreign trip went to Cairo and he didn't stop here in Israel."
Adelson, dressed formally in a suit and tie, spoke to BuzzFeed as he emerged from the fundraiser nearly an hour after Romney departed. After Romney, the mogul was the hottest ticket for donors, who surrounded him at every opportunity.
"Israel is at an existential crossroads, we need the support of our only friend," the billionaire casino magnate added.