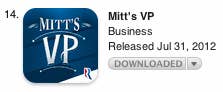 Both Mitt Romney and Barack Obama launched iPhone apps this morning, and the presumptive Republican nominee's is blowing the president's out of the water.
On the iTunes App Store's rankings of top free apps, the Romney app, Mitt's VP — designed to notify users of Romney's running mate pick — is leading the Obama campaign's redesigned grassroots organizing app.
The Romney campaign pointed out their lead as a sign of buzz for their candidate and his impending decision — which has been the one bit of news capable of consistently penetrating several weeks of bad headlines.
Obama aides noted that their new app will also be pushed out as an update to their army of existing users — so the numbers aren't apples-to-apples — and said their app is more substantive than the Romney campaign's glorified calling tree.
UPDATE: The Romney app has fallen to 91 in the App store, while the Obama app has climbed to 40.