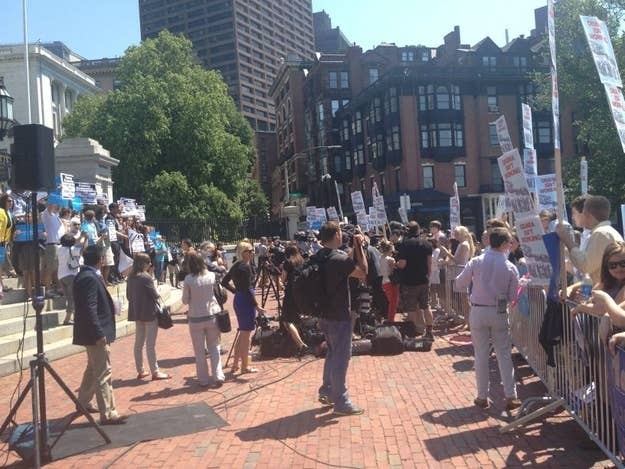 BOSTON, Mass. — Supporters of Mitt Romney and Barack Obama clashed on the steps of the Massachusetts State house in Boston Thursday, as senior Obama adviser David Axelrod designed to dismantle the Republican nominee's Bay State record.
Romney aides, interns, and volunteers flooded out of the campaign's headquarters here with signs — and bubbles — to protest Axelrod and Obama, while Obama supporters chanted "Hey hey, ho ho, Mitt Romney has got to go."
Romney supporters responded by chanting "Solllyyynndraaa" like Bruins fans heckling the visiting team.
After he finished his remarks, Axelrod opened the floor to questions, but he couldn't hear reporters over the protests.
"You can shout down speakers my friends, but it's hard to etch a sketch the truth away," Axelrod said as he struggled to be heard over the crowd, later shouting, "You can't handle the truth my friends! If you could handle the truth then quiet down."
The content of the press conference focused on Romney's gubernatorial record in the state — one that Axelrod and a slew of local Obama surrogates tried to paint as ineffectual and weak, a failed attempt to translate private equity principles to a governance. Pointing out that under Romney's leadership, Massachusetts was ranked 47th in private sector job creation, Axelrod said the Romney's experience as a venture capitalist left him ill-equipped to run a state.
"It wasn't happenstance, folks, that Massachusetts stumbled under Romney," Axelrod said. "He borrowed money to pay operating expenses and left the tab for the next Governor. This may work in the realm of leveraged buyouts and quick scores; that may work in that world, but it's not how you build a future."
As Obama surrogates took the podium, Romney supporters booed, and chanted "wrap it up." Some got a call-and-response chant going: "What do we want? Jobs! When do we want them? Now!" And some Romney aides even blew bubbles at the speakers.
"Thank you for the bubbles, it's a hell of a lot better than the smoke Mitt Romney blew at us as governor," retorted Somerville Mayor Joe Curtatone.
Obama supporters purposefully didn't advertise the press conference until Thursday morning, hoping to avoid any sort of organized effort by their opponent to disrupt the event. But it was to no avail: For much of the time, Romney supporters outnumbered those backing the president.
Asked about the hecklers shortly after the event, Axelrod quipped, "I'm glad Mitt Romney is finally creating jobs in Massachusetts."