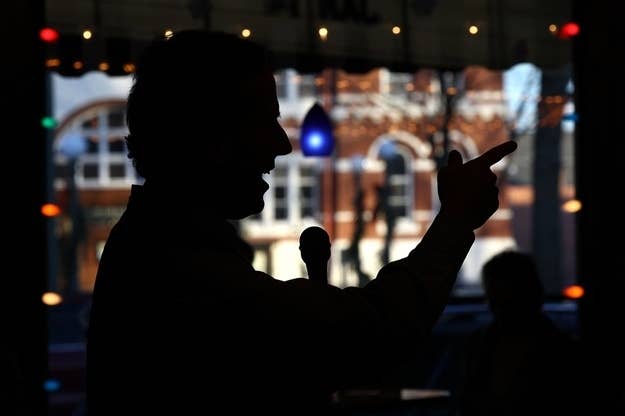 OTTUMWA, Iowa—Former Pennsylvania Senator Rick Santorum and his aides were frantically refreshing laptops and phones to see the results of Saturday's Des Moines Register poll yesterday evening, results that showed him within striking distance of Mitt Romney, but it probably didn't matter: The last surging Republican candidate is uniquely ill-suited to snatch the nomination from Mitt Romney.
Santorum huddled with staff members outside a restroom here trying to access the poll following one of his largest rallies of the campaign. Like tens of thousands of other political junkies Saturday night, he was locked out of the results after the Register's website crashed under the load, and only learned of the results after BuzzFeed's correspondent showed him a tweet on his laptop.
The Pennsylvania conservative expressed little emotion after learning he was polling in third at 15 percent — up from just 5 percent in early December — or when he got the news that in the last two days of the survey he had surging to 21 percent, enough for second place.
Santorum maintained that the poll didn't matter; he's "the tortoise" and isn't going to do anything differently. And in the grand scheme of things, he's right:
Little changes if Santorum wins the Iowa caucuses. It will still be Mitt Romney's game to lose.
Santorum lacks the organization and fundraising to compete in the next two voting states, South Carolina and New Hampshire. He was soliciting Iowa voters late Saturday to help him raise money for ads airing as soon as tomorrow.
What's more, the single-minded focus on social conservatives, and the "moral crisis" on which he campaigns, has left him without a clear pitch to most voters' primary concern, the economy.
Indeed, Santorum appeals to Iowa voters with a mix of unusual lines that won't play outside the Hawkeye State.
"Diversity creates conflict. If we celebrate diversity, we create conflict," Santorum told the audience in Ottumwa (*). When he was asked about homeopathic remedies, he said: "I believe in all types of medicine."
"Santorum may pocket the anti-Romney conservative ticket out of Iowa, boosting him in South Carolina, yet it is difficult to see how he broadens his appeal within his party. Santorum still campaigns as if he is behind a church pulpit, not on a political podium," the Republican consultant Alex Castellanos wrote Sunday. "Unless he learns to address the raging economic fire that concerns voters and not the moral meltdown that interests him, he'll remain a tangential threat."
The problem for Santorum: Romney has New Hampshire locked up, setting South Carolina as the site of conservatives' last stand.
But as in Iowa, Romney will face a divided mass of conservatives in the Palmetto State: Barring a low-single digit catastrophe on Tuesday, Newt Gingrich and Rick Perry will almost certainly still be in the race when South Carolina Republicans cast their primary ballots.
Santorum's surge has been isolated to Iowa — he's still in single digits nationally — and only came about because of his relentless retail politicking, and an ostentatious fealty to the "Iowa way" that won't stir voters elsewhere. Gingrich and Perry can't win a three or four way split of the conservative vote.
Santorum won't have the same level of success in South Carolina as he might in Iowa since he's made only a symbolic effort to meet voters in the state, staging about three hundred fewer events there than he has in Iowa.
He needs to be able to wage a media war, and in a state where retail politics is less important, that means Santorum needs cash — and he doesn't have any.
Santorum very well could win the Iowa caucuses, but it doesn't make Mitt Romney more vulnerable. Rather, it means Romney's getting perhaps the only social conservative he could beat even in the Baptist heartland.
"We're headed in the right direction," Santorum said in Ottumwa. But there's no clear path for Santorum to stop Romney's sprint to the finish.
The tortoise may win Iowa, but he won't go very far.
UPDATE: As Tim Carney points out the Santorum quote above was inaccurate. We apologize for the error.
Below is the full quote in context:
I was at a debate with Howard Dean in the last year or two and we were asked what we thought was the most important quality of America or characteristic of America and he said diversity. Diversity? Did you ever hear of e pluribus unum? The greatness of America is that people who are diverse can come together to be one. The problem in most countries in the world is that diversity creates conflict. If we celebrate diversity then we lay the groundwork for that conflict. We need to celebrate common values and have a president that lays out those common values.