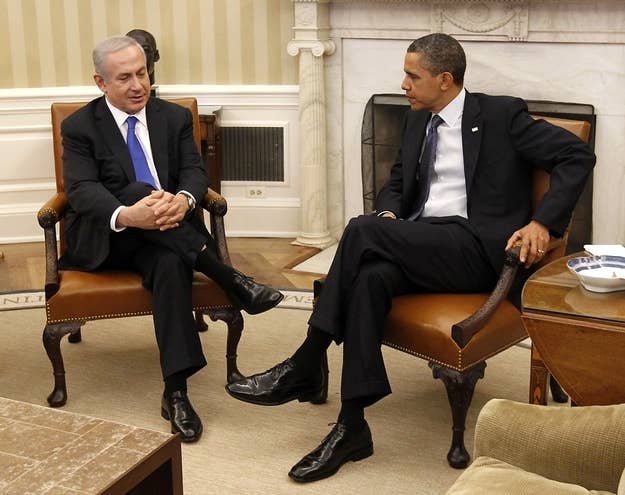 WASHINGTON, DC — President Barack Obama's reelection was preceded by fears and warnings from some of Israel's conservative supporters and hopes from more liberal Middle Eastern voices: Obama would show his true pro-Palestinian colors, and he would come down hard on an Israeli Prime Minister who had obviously favored his Republican opponent.
The test came fast, when Israeli reacted to a drumbeat of missile strikes by turning its firepower on the Gaza Strip within days of the election. And the American reaction has, so far, surprised those who expected a post-election pivot. And with the region hoping Hillary Clinton's visit will bring a ceasefire, Israelis have so far had few complaints.
"If funding iron dome is Obama's way of throwing Israel under the bus, I am praying he will throw us under a train," tweeted Israeli reporter Barak Ravid, who writes for the center-left newspaper Haaretz, referring to the American-backed missile defense system.
Indeed, the American reaction seems to have provided a kind of odd vindication for Israeli Prime Minister Benjamin Netanyahu, whose apparent affinity for Mitt Romney has had no evident cost, and could arguably be seen as forcing Obama to keep Israel closer. One Israeli official close to Netanyahu, who enjoys a working, but cool relationship with the president, said the Obama administration's response to the conflict "has been everything we could ever hope for."
"The administration has been very clear in its support for Israel's right to defend itself — and that Hamas is the problem," said Josh Block, CEO of The Israel Project. "That has the potential to send a strong message both to Israel's adversaries and her enemies."
The White House stance — not just to back Israel, but also to put the blame squarely on Hamas — will confound both those, like an Al Jazeera columnist, who imagined Obama would pivot to a "global Progressive Agenda," but more strikingly Obama's Republican critics, who had dire warnings about his post-reelection plans.
"Mitt Romney will stand with Israel," was the mainstream Republican line in the weeks leading up to the election, with the implication being that Obama will not. And Mitt Romney asserted that that Obama had already thrown Israel under the bus — and that was before he was unburdened by reelection.
Conservatives are now left to warn that Obama will yet abandon Israel. At some point.
"It's impossible to judge if people's concerns about Obama's second term treatment of Israel were misguided until the second term is over," said Matt Brooks, the executive director of the Republican Jewish Coalition, which spent millions this year attacking the president on the subject. "I think everyone appreciates the support the U.S. has given Israel to this point as she has launched this defensive effort in Gaza."
And gone are the accusations of the emergence of "daylight" between Obama and Netanyahu.
Mitt Romney repeatedly claimed that Obama "explicitly stated that his goal was to place daylight between U.S. and Israel. This is a dangerous situation that has set back peace in the Middle East and emboldened our enemies."
Instead, the White House has gone out of its way to avoid exactly that perception of daylight.
"Without an end to rocket fire into Israel from Gaza, Israel can't be assured of the security of its people," said Deputy National Security Adviser for Strategic Communication Ben Rhodes on Tuesday — at least the fifth such time the Obama administration has laid out conditions for an end to violence that echo the Israeli government's.
And while Obama has spoken out about the need to avert an Israeli ground operating in Gaza, he hasn't specifically opposed it, and Netanyahu has called the operation the last resort if a cease-fire can't be attained.
Obama's friends on the left, meanwhile, who have long sought to pull him away from a reflexive alliance with the Netanyahu government, have downplayed the significance of this week's solidarity.
"I would not regard backing Israel's right to defend itself against Hamas rocket fire as a 'left' or 'right' issue," said Jeremy Ben-Ami, executive director of the liberal group J-Street. "The right to self-defense is simply a core pro-Israel position and is — and should be — outside the politics of the issue."