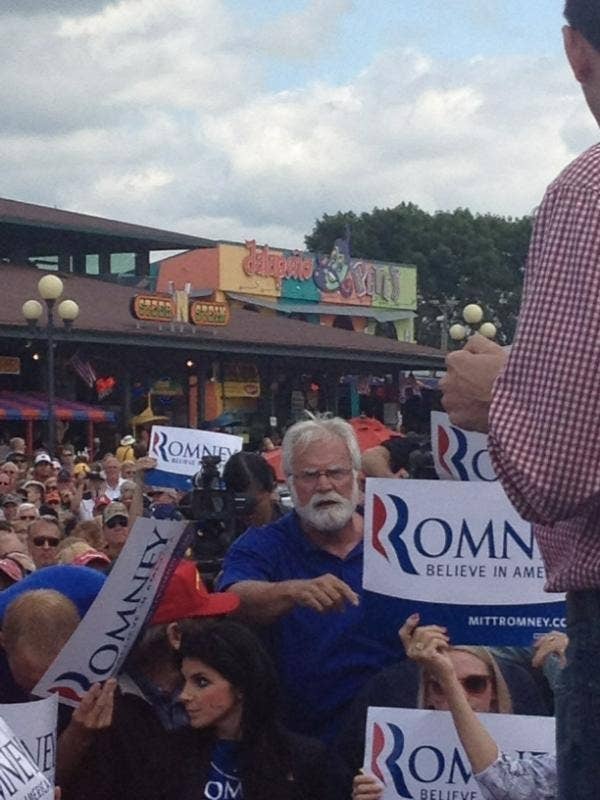 DES MOINES, Iowa — Paul Ryan's remarks at the Iowa State Fair in Des Moines today turned into a confrontational scene when hecklers sought to drown him out and then rush the stage.
Ryan had barely begun speaking when a woman shouted, "Are you going to cut Medicare?"
Two women rushed the stage, and one was apparently arrested by three Iowa State Patrolmen after getting on stage with a banner.
"Woah...hey...alright...she must not be from Iowa," said a rattled Ryan as the woman got on stage and grabbed by police.
The officers bounded out from behind the stage to pull her down, saying "She just punched a volunteer."
Ryan continued to deliver his stump speech over shouts of "stop the war on the poor" "stop the war on the middle class" and "stop the war on the common good," with those heckles at times drowned out by chants of "U-S-A."
"We're used to this in Wisconsin," the candidate remarked, a reference to tumultuous protests at the State Capitol over collective bargaining, and the state's contentious recall election.
Romney supporters initially blocked a persistent male heckler with their signs, but he was eventually removed by officers of the Iowa State Patrol.
It marked a chaotic first solo event for the presumptive Republican vice presidential committee.
Ryan's motorcade arrived at the fair where he was greeted by Gov. Terry Branstad, Rep. Steve King, and Sen. Chuck Grassley before pushing through a large crowd of supporters and onlookers along a 200-yard street to reach the Des Moines Register "soapbox."
Secret Service agents and patrolmen fought their way through the unorganized mob to get Ryan and his entourage to the stage surrounded by a large contingent of reporters and photographers.
Ryan spoke for only 13 of the customary 20 minutes on the soapbox stage and did not take any questions from the audience.
As reporters walked alongside him asking questions — including about the region's devastating drought — Ryan declined to answer most of them, saying, "We can play 'stump the VP later.'"
A Secret Service spokesman did not immediately reply to a request for comment as to how the woman was able to get past secret service onto the stage.
President Barack Obama is scheduled to make a stop at the fair later tonight. His trip emphasized his administration's response to the drought.
UPDATE: According to Sergeant Scott Bright, Iowa State Patrol Information Officer, three individuals were removed from Ryan's event, but were not kicked out of the state fair. None of them was arrested.