Portman: Internals Show "It's A Dead Heat" In Ohio
Top surrogate and debate sparring partner says Romney has pulled even in Ohio, as he raises expectations for tonight's town hall.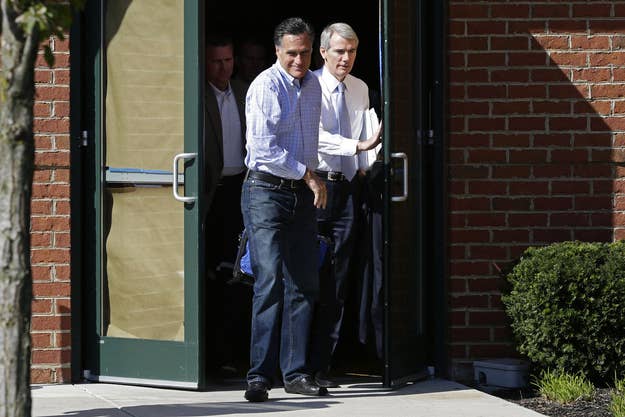 HEMPSTEAD, New York — Ohio Sen. Rob Portman told reporters Tuesday that President Barack Obama and Mitt Romney are in a "dead heat" in his state, which represents the most significant hurdle between the former Massachusetts governor and the presidency.
"It's a dead heat," he told skeptical reporters at Hofstra University where the two presidential candidates will face off in tonight's debate.
"I know it is, because I'm reading the polls," he maintained, immediately prompting reporters to ask which polls he's looking at.
Obama leads Romney by more than two points in the RealClearPolitics poll of polls, and trails by as many as six points in reliable surveys.
"I shouldn't say I know it is," Portman continued, citing the campaign's own internals. "It's gonna shift and change over time, but the polls are within the margin of error — the public polls — and our own tracking indicates that it's a dead heat. That's a big change."
Portman plays Obama in Romney's debate camp, and has risen in Romney-world to become a trusted campaign adviser and a top surrogate. He said "regardless of the format, Mitt will continue to be Mitt," in tonight's town hall debate.
He also, by his own admission, raised expectations for Romney's performance tonight, saying Romney has done more than 100 town halls in the last four years. "The reality is he's done a lot of town hall meetings, whereas President Obama did them his first couple of years and then stopped."
In Ohio, Portman said the internal surveys show Romney has closed a "big gap" in the state, but wouldn't specify how far back he was before the Denver debate.
"What we've seen is a steady momentum our way," he said, crediting the first debate, Romney's and Paul Ryan's frequent visits to the state, as well as the campaign now spending at parity with the Obama campaign on television ads.
"They outspent us in Ohio for months," he added. "We haven't gotten to parity really until the last couple of days."
Portman said the campaign has seen improvement in every market in Ohio after the debate in its polling, adding that they are seeing soft Obama supporters moving over to Romney.
On ABC News's "This Week With George Stephanopoulos," this past Sunday, Portman said Romney "probably" could win the presidency without winning Ohio, adding, "but I wouldn't want to take the risk."
UPDATE: Obama campaign manager Jim Messina entered the spin room just over three hours before the debate to rebut Portman's comments.
"Usually when you're talking about internals and you're showing yourself within the margin of error you're losing," he told reporters. "I think that's true with them. We're winning Ohio."