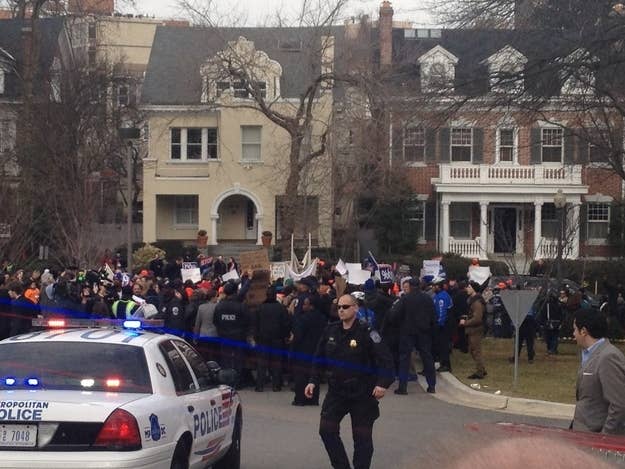 Approximately 300 Occupy protesters marched on the hotel where the Conservative Political Action Conference is taking place this week to hold a "Conservative Carnival for the 1%."
On arrival, the group was met by D.C. Metropolitan Police, U.S. Secret Service, and private security and kept off the hotel property — but not before dozens of protestors, members of the media, and conservative activist were threatened with arrest.
CPAC attendees were instructed not to leave the hotel, and members of the media were warned not to approach the protestors. "Be good Conservatives and get back inside," one private security guard told attendees, warning they could be arrested if they remained outside.
"We're going to set up as many tents as we can on and around the hotel," one organizer, who requested anonymity in order to speak freely about the groups plan, said while the protestors marched to the hotel from the National Zoo. "We're going to be occupying their world."
"We're not going to glitter people, we're not trying to get arrested," another organizer added.
"As Mitt Romney makes his remarks to the 2012 CPAC Conference, 20 students are standing up to declare their opposition to the political elites that fight on behalf of the Wall Street bankers and the Washington lobbyists who do their bidding," organizers said in a press release distributed to reporters shortly before the protest began. "Traveling to DC from cities like Pittsburgh and New York, these college students, burdened with debt and unable to find meaningful work, are calling out Romney for his support of policies that are harmful to the 99 percent and let the 1 percent get away with not paying their fair share."
It was not immediately clear whether anyone was arrested during the standoff.