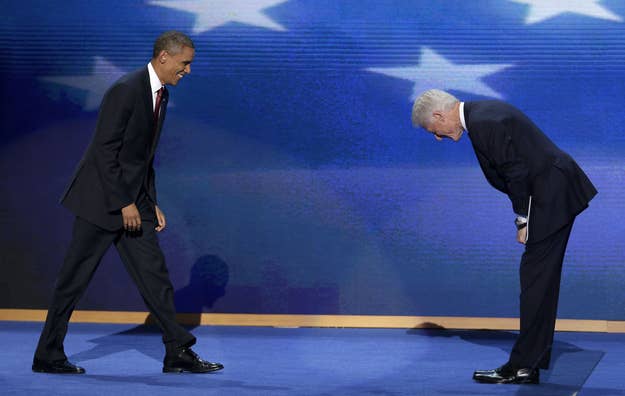 CHARLOTTE, N.C. — President Bill Clinton's well-received speech to the Democratic National Convention left President Barack Obama with a clear task Thursday night: To move a convention devoted to defending his tenure into a positive vision — still largely missing from his Administration — for a second Obama term.
Clinton delivered a fiery and frontal rejection of Republican talking points and attacks. He offered a long discursion on the claims — now at the center of Romney's television campaign — that Obama has "gutted" the Clinton-era welfare reforms. He rejected, in some detail, Republican claims that ending the Medicare Advantage program was equivalent to a large cut in Medicare. And he questioned Republicans grasp of "arithmetic," a line that delegates chucklingly repeated as they headed into the Charlotte night.
Obama, Clinton made utterly clear, will look forward tonight.
"He's to look to the future," said Pennsylvania Governor Ed Rendell. "He's got to acknowledge where we were, say that we've made progress, say that he understands that progress isn't enough, and then lay out his plans for the future. It's a complicated message, but he's a good messenger."
Clinton's role as Obama's lead defender offered Democratic leaders great satisfaction.
"President Clinton's address was to everybody — including the media, who have allowed Republicans to recommit to untruths — and he just dissected each and every one of their arguments pretty darn well," Connecticut Gov. Dannel Malloy told BuzzFeed.
Now Obama will be on the spot for what many Democratic leaders at the convention have been expecting for months: To offer Americans his own vision in, if not Clintonian detail, something with the clarity to move votes.
"What Obama did [in 2008], and he deserves credit, he gave people hope when there was almost no hope and now he's translating hope into a plan," Colorado Gov. John Hickenlooper told BuzzFeed. "And a plan is not as exciting, fresh, it takes more time, it takes hard work, but his plan is working."
Clinton's speech, Hickenlooper said, offers "the framework — the context" for the president.
The White House has promised that next step.
"The focus tonight is going to be on laying out the President's vision for how we move forward and the fundamental choice we have in this election," said White House Communications Director Dan Pfeiffer.
And Democrats will eagerly await clues not just to where Obama is steering his campaign, but to where he will take the next four years. Obama could again promise engagement on the giant legislative priorities that eluded him in his first time, notably making a sweeping immigration deal and taking steps to halt climate change. He could signal compromise — or a refusal to compromise — on the giant questions of taxes, spending, and entitlements that are at the center of the 2008 campaign.
Many Democrats eyeing the coming election, though, hope he will keep the focus on short- and medium-term economic plans and on some version of the 2011 American Jobs Act, rejected by Republicans, which offered a package of tax cuts, including to the payroll tax, and spending programs aimed at spurring economic growth.
"He needs to talk about those 4.5 million private sector jobs," Malloy added. "He needs to talk about a leaner government where on the social side we're spending as a part of GNP less than we were spending in the Eisenhower years. He needs to talk about spending on transportation and infrastructure and the jobs that that brings."