Obama "Welcomes" Senate Immigration Deal, Refuses To Endorse
Carney says it "mirrors" Obama's approach.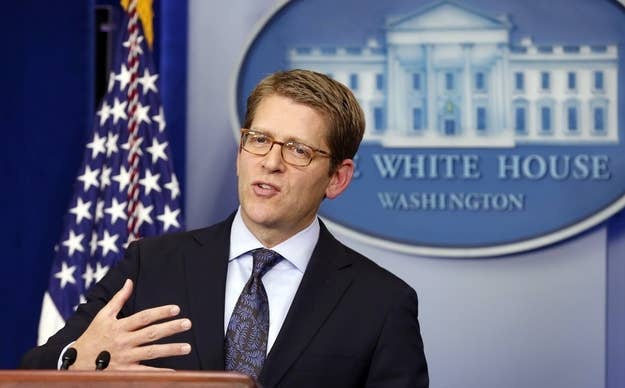 WASHINGTON — White House Press Secretary Jay Carney said Monday that President Barack Obama "welcomes" a bipartisan Senate agreement to bring about comprehensive immigration reform, but refused to say whether Obama would endorse the plan.
"The president welcomes the efforts by the bipartisan group in the Senate," Carney said, barely 12 hours after the agreement was announced by a group of eight senators early Monday morning. He added that it "mirrors" Obama's approach detailed in a "blueprint" in 2011.
When pressed by reporters if Obama would sign a bill adhering to that framework, however, Carney repeatedly said there was "no legislation" described in the agreement and that Obama wouldn't make any promises.
"This is an important first step for Congress," he said. "We need to continue the movement."
On Tuesday, Obama will travel to Las Vegas to "continue a conversation with the American people," Carney said, about the need to pursue immigration reform.
Carney wouldn't comment on whether Obama would propose his own legislation — noting that Obama has released more than 25 pages of details on his plan. "I'm not going to negotiate legislative tactics here," he said.
But Carney took a victory lap for Obama, saying the "positive development" on Capitol Hill is due to the president.
"It's happening because the president has demonstrated significant leadership on this issue," Carney said.
Carney refused to say whether Obama supports the agreement's provision that border security be increased before illegal immigrants can be granted a path to citizenship.
"We're not at the stage…where we are going to negotiate details of legislations that doesn't yet exist," he said.