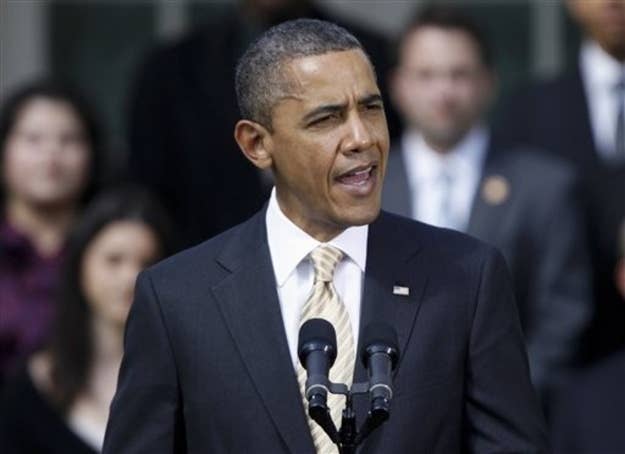 Three weeks ago, President Barack Obama's campaign manager Jim Messina sent supporters an alarming email.
"If the general election were held today, President Obama would lose to Mitt Romney," he wrote, citing a recent poll.
Yesterday, the campaign got some better news: A poll released by CNN yesterday showed Obama leading Romney by double-digits, a margin the campaign hasn't seen in months.
The campaign's response: Crickets.
Instead the Obama team in Chicago blasted out an email from Sen. John Kerry warning that Republicans will be "swiftboating" Obama in the general election, a reference to attacks on Kerry's war record in his 2004 presidential bid.
"I know all too clearly that these guys will do or say anything to win," he emailed. "They'll stop at nothing. But forewarned is forearmed. Their multi-million dollar smear tactics were new in 2004; in 2012 we know their playbook, and shame on us if we don't tear it into shreds. Join me and we will stop the 'swiftboating' of President Obama."
The Obama re-election operation's silence in the face of good news is a mark of what may be their deepest fear: That their supporters won't be afraid to donate money, organize, and ultimately to vote on November 6th. The staff of the most powerful man in the world don't want to dwell on their candidate's apparently growing strength. They'd much rather be harnessing supporters' worries about a Mitt Romney presidency or, worse, a Republican takeover of the White House and Congress in 2013.
Mitt Romney's repeated gaffes have made him an easy target for Democratic attacks, but Obama aides say they're concerned it has also reinforced the belief among some on the left that Romney is hapless and out of touch with his own party — and that Obama will romp in the general election.
And so the Obama campaign has launched a calculated effort to keep the base worried about what will happen if Romney wins the White House.
"If the idea of a President Romney scares you, it's time to own a piece of this campaign," Messina wrote in the email, sent after the Washington Post-ABC News poll showed Romney ahead.
Obama's campaign also of Republicans pledging to repeal ObamaCare, warning of significant consequences to women and other constituencies if the bill is killed.
"The campaign is appropriately using fear of complacency to drive fundraising and grassroots participation," Matt Bennett, the spokesman for Third Way, told BuzzFeed. "Everyone understands that we live in a 51-49 country, and that this election is almost certain to be very close."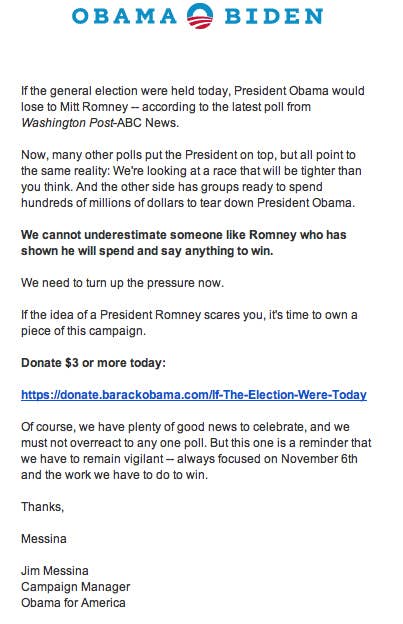 Democrats expect a campaign sharply aimed at different constituencies, and spiked with warnings of what a Romney presidency would mean for women, for African-Americans, for immigrants, for the old, and for the young.
"Fear is a great motivator — at this point, the more Democratic voters have seen of Romney and the Republican issues discussion, the more they see there is an awful lot to fear," said Steve Rosenthal, president of The Organizing Group.
The Obama campaign and the Democratic National Committee have also struggled to avoid simply stamping "L" for "loser" on Romney's forehead. They've tried instead to frame his stumbles as emblematic of deeper personal and political flaws, for instance a joke about his father closing down a factory plays into their argument that he's out to get the middle class.
One sign of things to come arrived in this year's debate over contraception, in which President Obama and his aides engaged at the highest level to draw attention to a controversy that alarmed the young and middle-aged women whose votes are key to Democratic success.
"The conditions for an above average Democratic turnout in 2012 are present — a powerful Obama machine, a scary opposition and a year when everything —White House, Senate, House — is on the table," said Simon Rosenberg, the president of the progressive group NDN. "The difference however between respectable and strong turnout for Democrats will be whether they can provide as compelling a reason to vote for them as against the other side."