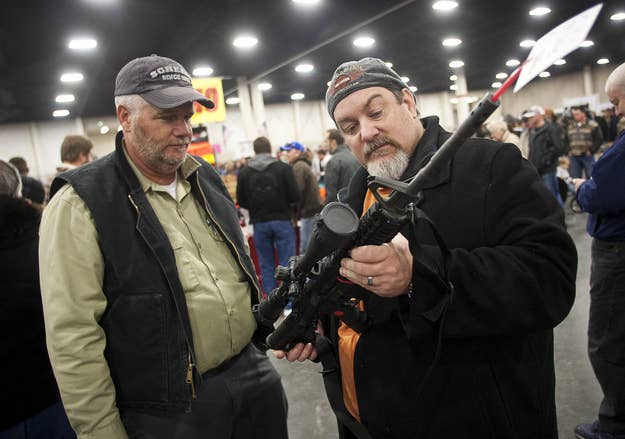 WASHINGTON — President Barack Obama announced a set of sweeping proposals Wednesday that administration officials say are designed to combat gun violence by restricting the sale of new weapons.
Flanked by children upset by the mass school shooting in Newtown, Connecticut, last month, Obama and Vice President Joe Biden announced his support for congressional legislation banning the sale of new assault weapons, mandating universal background checks, and banning the sale of high-capacity magazines.
"The world has changed and it's demanding action," Biden said.
"I intend to use whatever weight this office holds to make them a reality," Obama added. "If there's even one thing that we can do to reduce this violence, if there's even one life that can be saved, then we have an obligation to try. And I'm going to do my part."
Obama also announced that he will take 23 "executive actions," including nominating a director for the Bureau of Alcohol, Tobacco, Firearms and Explosives and clarifying "that the Affordable Care Act does not prohibit doctors asking their patients about guns in their homes."
The administration will also direct the Centers for Disease Control to study the causes of gun violence as well as the potential link between violence and violent video games.
Senior administration officials said they didn't know how many lives Obama's proposals would save. "There is no question that the action he is taking and the legislation he is proposing will save lives," maintained one senior official on a call with reporters. Nor could they say if they would have prevented any of the mass shootings that precipitated the reform.
Obama isn't presenting specific legislative language to lawmakers; instead he will "work together" with them to fine-tune proposals already introduced in Congress, the officials said, but they wouldn't provide a specific timetable for the legislation.
Likewise, the officials said the proposals would do nothing about existing assault weapons and magazines holding more than 10 rounds, and will only ban the sale of new ones.
"Our view is that we should get done as much as we can get done now and change the practice going forward," said one official.
In the immediate aftermath of the Newtown shooting, Obama called on Vice President Joe Biden to lead a task force to investigate a response to the slew of violence that has plagued Obama's time in office.
According to the officials, Biden and Cabinet officials convened "22 different meetings meeting with more than 220 different organizations and conversations with more than 31 elected officials — Democrats and Republicans."
"The president is backing up his strong words in the wake of Newtown with action," said one official, pushing back on reports that Obama was backing down from a fight given strident opposition from the National Rifle Association.
But the political future for Obama's legislative proposals is grim, with many Americans opposed to the assault weapons ban and many Republicans gearing up for a fight.
"House committees of jurisdiction will review these recommendations," said Michael Steel, a spokesman for Speaker of the House John Boehner. "And if the Senate passes a bill, we will also take a look at that."
The Senate Judiciary Committee Chairman Patrick Leahy announced that his committee will hold its first hearings on gun violence on Jan. 30.
Obama said "this will be difficult," encouraging Americans to contact their representatives to ask them to support his efforts. "This will not happen unless the American people demand it."
"What's more important? Doing whatever it takes to get an A grade…or giving the American parents the peace of mind when they drop their children off for first grade," Obama added.