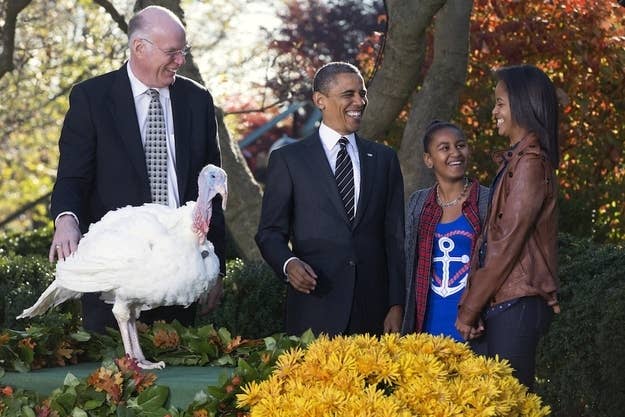 WASHINGTON — Fresh off a four-day trip to Asia, President Barack Obama pardoned the National Thanksgiving Turkey Wednesday, taking a shot at his former Republican opponent and cracking jokes about his reelection.
"They say that life is all about second chances and this November I can't agree more," Obama said.
"So in the spirit of the season I have one more gift to give," Obama joked in apparent reference to Mitt Romney's claim after the election that Obama won by giving "gifts" to minority groups, Obama said he was going to pardon the National Thanksgiving Turkey, named Cobbler, and his stand-in, Gobbler.
"The American people have spoken, and these birds are moving forward," he added.
Adding that for the first time the Turkey selection was democratized by a Facebook poll, Obama quipped "and once again, Nate silver perfectly nailed it," a reference to polling analyst who predicted his win in 2008 and 2012.
Obama also recognized those still suffering from the effects of Hurricane Sandy in the Northeast, as well as troops serving abroad away from their families during the holiday season. He then proceeded to make the sign of the cross over Cobbler's head, thereby making the "pardon" official.
After the photo-op, Obama refused to comment on a shouted question from a reporter about the ceasefire in Gaza, pausing while shaking hands to acknowledge the question, then smiling and turning away.