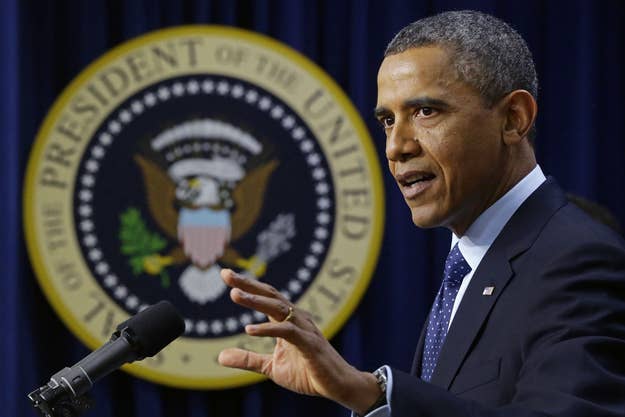 WASHINGTON — President Barack Obama reiterated his pledge not to negotiate over the nation's borrowing limit Tuesday night, as he marked the passage of a bill to avert the fiscal cliff.
Speaking from the White House briefing room 20 minutes after the House of Representatives passed the bill — and minutes before his own return to a vacation in his native Hawaii — Obama offered Republicans brief, tough talk.
"While I will negotiate over many things, I will not have another debate with this Congress over whether they should pay the bills for what they've racked up," Obama said. "We can't not pay bills that we've already incurred."
The debt ceiling one was half of a doctrine Obama laid out late Tuesday, requiring that all deficit reduction measures include revenue increases.
With looming fights over the debt limit, dealing with the rest of the mandatory spending cuts, and funding the federal government, Obama said he fully intends to take up measures to bring down the deficit — which has topped $1 trillion annually for four years.
"The fact is, the deficit is still too high," Obama said, repeating his openness to examining ways to strengthen entitlement programs like Medicare. "But the deficit needs to be reduced in a way that's balanced," he added, saying "further reforms to our tax code" must accompany spending cuts.
"Today's agreement enshrines, I think, a principle into law that will remain in place as long as I am President," Obama said. "The deficit needs to be reduced in a way that's balanced. Everyone pays their fair share. Everyone does their part. That's how our economy works best. That's how we grow."
Obama bemoaned his repeated inability to strike a "grand bargain" with House Republicans.
"That failure comes with a cost," Obama said, warning of another bitter fight over fiscal issues that have dominated the past two months and will do the same for the next.
But in a celebratory move, Obama also crossed off an item on his post-election check-list, saying he fulfilled his campaign pledge to raise taxes on the rich while protecting tax breaks for the middle class.
"A central premise of my campaign for president was to change the tax code...Tonight we've done that," Obama said.
Obama thanked congressional leaders and Vice President Joe Biden for negotiating the agreement and getting it through Congress, saying "everybody worked very hard on this."
After his brief statement, Obama greeted aides outside the Oval Office, before quickly walking to Marine One for the first leg of his trip back to Hawaii to continue his vacation.