Obama Confidence Game Devolves Into Mustache Bet
"We have the math and they have the myth," Messina says. "I can only bet my mustache once," says Axelrod.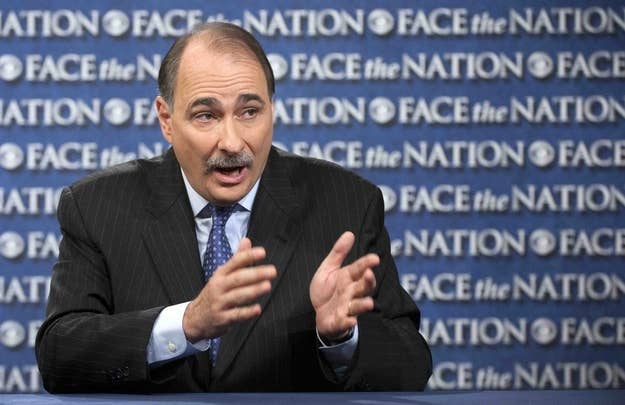 Top aides to President Barack Obama declared not just their belief that they will win the election in six days, but that Mitt Romney has no conceivable path to victory — the latest escalation in the confidence wars that now center on senior adviser David Axelrod's mustache.
"We have the math and they have the myth," campaign manager Jim Messina told reporters on a conference call Wednesday morning. "The Romney campaign is trying to sell illusion and delusion."
"There is no Romney momentum in the battleground states, only smoke and mirrors," he added, asserting that Romney has no path to 270 electoral votes. "Romney wants you to think he has momentum, but that's a hard case to make when you haven't put away a single battleground state."
"Ohio is fading away," added Axelrod of the must-win state for Romney.
The call was meant to combat the Romney campaign's own message of confidence, where they project the race is a toss-up and that the Republican has pulled even or is within striking distance in key battlegrounds.
Axelrod took to the call to reiterate his pledge to shave his 40-year-old mustache if Obama loses Michigan, Pennsylvania, or Minnesota — three states into which the Romney campaign has tried to "expand the map."
Asked by local reporters if he will put his mustache on the line for other states, Axelrod calls it "my most valuable asset" and declines to wager it on the outcome in Virginia.
"I can only bet my mustache once, but I'm very confident at the end of the day we'll win Virginia."
They compared the Romney effort to quarterback Doug Flutie's famous Hail Mary pass at Boston College: "Except this Hail Mary isn't going to work."
"Axe's mustache is safe," Messina added.
Indeed, Romney aides acknowledge that they are only advertising in those states because they have nearly maxed out what they can spend in closer swing states.
Asked why their campaign is spending money advertising in Michigan if they are not worried about the state, Axelrod called it "prudent," despite proclaiming Romney has no path to victory there.
"We're doing it because it's the prudent thing to do," he said. "We're not going to cede any state in this race."