Newt's Terrible New Strategy
Spokesman says item #1 is getting Romney out of the race. That'll really get him far.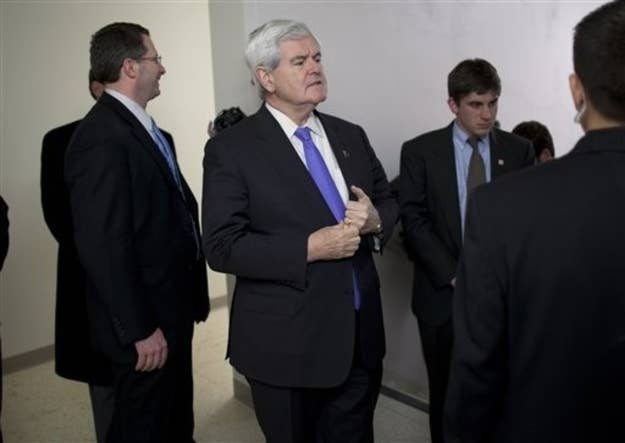 MESA, Arizona—Newt Gingrich spokesman R.C. Hammond outlined his candidate's strategy for winning the nomination simply as "getting Mitt Romney out of the race."
Speaking to reporters minutes before the final debate before Super Tuesday, Hammond said Gingrich is counting on Rick Santorum defeating Romney in his home state of Michigan.
"Mitt Romney needs to show up after Tuesday and explain why he can't win his home state," he said. "Everyone is going to realize that Mitt Romney is incapable of winning."
Asked why Gingrich is ceding Michigan to Santorum, Hammond said their campaign is looking to the states beyond that.
"For a Gingrich candidacy to advance to Tampa, Mitt Romney cannot be in the race," he said. "So whatever means that we can use to our advantage to get rid of Mitt Romney, and if that means that Rick Santorum is the one who exposes him for being a flawed candidate, so be it."
Asked what happens if Romney doesn't drop out, Hammond said, "If he's still there, he still has gazillions of dollars."